Travel
Europe's Hottest Secret Destinations. Aerial virtual tour of London by panoramic photographer Tom Mills and London virtual tour company VR Web Design. Travel Europe by Train with your Eurail Pass. Sistine Chapel. Why americans should never be allowed to travel.
I had someone ask for an aisle seats so that his or her hair wouldn't get messed up by being near the window.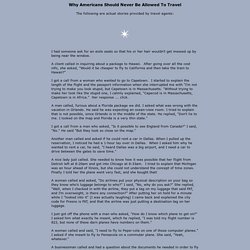 A client called in inquiring about a package to Hawaii. After going over all the cost info, she asked, "Would it be cheaper to fly to California and then take the train to Hawaii? " Fullmoonhike.swf (Objecto application/x-shockwave-flash) PARIS - panorama | © gillesvidal - photographe.
---