PM
ITIL® Home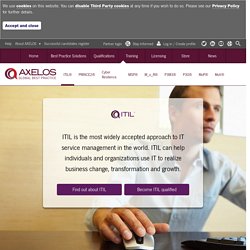 ITIL is the most widely accepted approach to IT service management in the world. ITIL provides a cohesive set of best practice, drawn from the public and private sectors internationally. IT Service Management (ITSM) derives enormous benefits from a best practice approach.
CMMI | Overview
This information has moved to www.cmmiinstitute.com. As part of its mission to transition mature technology to the software community, the SEI has transferred CMMI-related products and activities to the CMMI Institute, a 100%-controlled subsidiary of Carnegie Innovations, Carnegie Mellon University's technology commercialization enterprise. The CMMI Institute will conduct CMMI training and certification, sponsor conferences and classes, and provide information about CMMI process improvement models and appraisals.
Earn a certification and outpace the competition PMI credentials distinguish you in the job market and can help you move ahead. Several certifications including the PMP® validate a range of education and experience levels in project management. Find out more or get started now to apply. Skilled at agile practices?
PMI - the World's Leading Professional Association for Project Management