Music
Welcome to iggli
Keith Schofield
Library Ideas, LLC
Selections from Annie Sheet Music Download
TRANS-SIBERIAN ORCHESTRA
SPECIMEN Custom Guitars and Tube Amplifiers / Guitar and Amp Repairs / The Chicago School of Guitar Making
Robert Johnson complete works - MP3 downloads and photos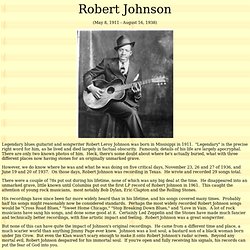 Robert Johnson (May 8, 1911 - August 16, 1938) Legendary blues guitarist and songwriter Robert Leroy Johnson was born in Missisippi in 1911. "Legendary" is the precise right word for him, as he lived and died largely in factual obscurity. Famously, details of his life are largely apocryphal. There are only two known photos of him.
MediaCoder
Tea Vui Huang's Mass Storage Synchronizer
divvio
iBiquity Digital is the developer and licenser of HD Radio™ Technology, which is transforming AM and FM broadcasting with vastly increased numbers of channels, drastically improved sound quality and an array of new data services. We are actively engaged with broadcasters; receiver, component and broadcast equipment manufacturers; automotive manufacturers; and retailers in the United States and around the world to ensure swift and successful adoption of HD Radio Technology. This site features sections dedicated to each of these important partners in the AM/FM digital radio revolution. Learn More
Digital Corporation - Find a Station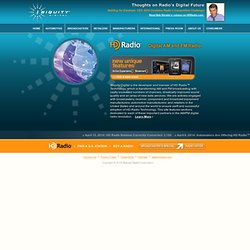 Pandora streaming radio (dugg earlier) caches to your TEMP folder!
Grand Haven Musical Fountain Developer Portal
No Doubt
Gwen Stefani
alt.binaries.nl - Search the Latest Files in Binary Newsgroups!