Obama
Palin. Speech Defect: Emissions of Evil From the Oval Office. On Tuesday night, Barack Obama gave a speech from the Oval Office on Iraq that was almost as full of hideous, murderous lies as the speech on Iraq his predecessor gave in the same location more than seven years ago.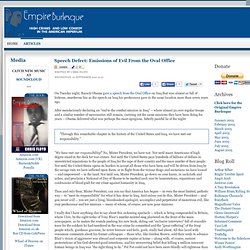 After mendaciously declaring an "end to the combat mission in Iraq" -- where almost 50,000 regular troops and a similar number of mercenaries still remain, carrying out the same missions they have been doing for years -- Obama delivered what was perhaps the most egregious, bitterly painful lie of the night: "Through this remarkable chapter in the history of the United States and Iraq, we have met our responsibility. " "We have met our responsibility!
" No, Mister President, we have not. Not until many Americans of high degree stand in the dock for war crimes. What has Pres. Obama Accomplished since he was Elected? « GroundUp CT. Robert P.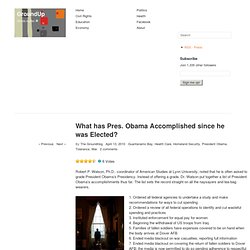 Watson, Ph.D.. coordinator of American Studies at Lynn University, noted that he is often asked to grade President Obama's Presidency. Instead of offering a grade, Dr. Watson put together a list of President Obama's accomplishments thus far. Opinion | Obama's Peace.
---