Greenliving
Air Fresheners: Easy Greening | Healthy and Green Living. The obsession for "fresh" smelling air is skyrocketing.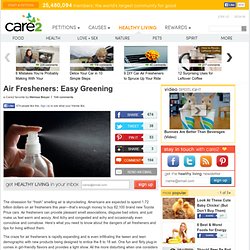 Americans are expected to spend 1.72 billion dollars on air fresheners this year—that's enough money to buy 82,100 brand new Toyota Prius cars. Air fresheners can provide pleasant smell associations, disguise bad odors, and just make us feel warm and woozy. And itchy and congested and achy and occasionally even convulsive and comatose. WorldChanging: Tools, Models and Ideas for Building a Bright Green Future. Fresh Choices Cookbook: Eco-Friendly Food Sources. American Grass Fed Beef (Beef), Doniphan, MO, 573/996-3716 or 866/255-5002, www.americangrassfedbeef.com, available nationwide via direct order.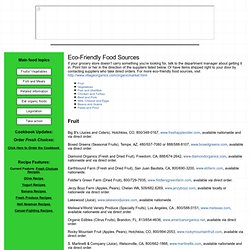 American Paturage (Beef/Veal, Lamb), Marionville, MO, 417/258-2394, available nationwide via direct order. Coleman Natural Meats (Beef, Lamb), Denver, CO, 800/442-8666, www.colemannatural.com, available nationwide. Double Diamond Ranch (Beef, Lamb), Baker City, OR, 541/853-2352, available via mail order.
---