Documentation
Igm.univ-mlv.fr/~cherrier/download/imac/Poo6.pdf. Untitled. Bien commenter et documenter son code en C# Compatible avec : La lecture de ce tutoriel ne requiert aucune connaissance particulière si ce n'est les bases de la programmation en C#.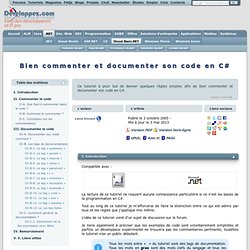 Tout au long de ce tutoriel je m'efforcerai de faire la distinction entre ce qui est admis par tous et les règles que j'applique moi même. Doxygen. Generate documentation from source code Doxygen is the de facto standard tool for generating documentation from annotated C++ sources, but it also supports other popular programming languages such as C, Objective-C, C#, PHP, Java, Python, IDL (Corba, Microsoft, and UNO/OpenOffice flavors), Fortran, VHDL, Tcl, and to some extent D.
Doxygen can help you in three ways: It can generate an on-line documentation browser (in HTML) and/or an off-line reference manual (in ) from a set of documented source files. GhostDoc - Simplify your XML Comments! Simplify your XML Comments!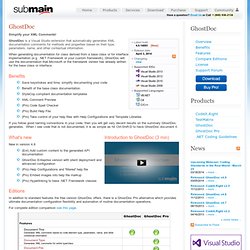 Latest build: 4.9.14093 [New] Release date: April 3, 2014 Visual Studio 2013 Visual Studio 2012.
---