Painters
Alfred Sisley - The complete works. The Art World Online. Art Renewal Center - Online Museum. Art.com - Posters, Art Prints, and Framed Art. Raphaël Collin. Raphaël Collin (1850–1916) was a French painter born and raised in Paris, where he became a prominent academic painter and a teacher.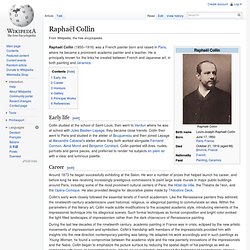 He is principally known for the links he created between French and Japanese art, in both painting and ceramics. Early life[edit] Collin studied at the school of Saint-Louis, then went to Verdun where he was at school with Jules Bastien-Lepage; they became close friends. Collin then went to Paris and studied in the atelier of Bouguereau and then joined Lepage at Alexandre Cabanel's atelier where they both worked alongside Fernand Cormon, Aimé Morot and Benjamin Constant.
Collin painted still-lives, nudes, portraits and genre pieces, and preferred to render his subjects en plein air with a clear and luminous palette. Oil Paintings - Reproductions.
---