Painters
Alfred Sisley - The complete works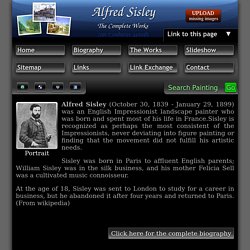 Portrait Alfred Sisley (October 30, 1839 - January 29, 1899) was an English Impressionist landscape painter who was born and spent most of his life in France.Sisley is recognized as perhaps the most consistent of the Impressionists, never deviating into figure painting or finding that the movement did not fulfill his artistic needs. Sisley was born in Paris to affluent English parents; William Sisley was in the silk business, and his mother Felicia Sell was a cultivated music connoisseur.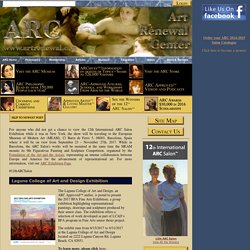 Deadine Exended to January 31st for the 2013/2014 International ARC Salon This will be our 10th annual competition in which some of the best contemporary realist artists in the world compete for recognition, cash prizes, and a chance to have their work seen by some of the more than 5,000,000 annual visitors to the ARC website.
Raphaël Collin
Raphaël Collin (1850–1916) was a French painter born and raised in Paris, where he became a prominent academic painter and a teacher. He is principally known for the links he created between French and Japanese art, in both painting and ceramics. Early life[edit] Collin studied at the school of Saint-Louis, then went to Verdun where he was at school with Jules Bastien-Lepage; they became close friends. Collin then went to Paris and studied in the atelier of Bouguereau and then joined Lepage at Alexandre Cabanel's atelier where they both worked alongside Fernand Cormon, Aimé Morot and Benjamin Constant. Collin painted still-lives, nudes, portraits and genre pieces, and preferred to render his subjects en plein air with a clear and luminous palette.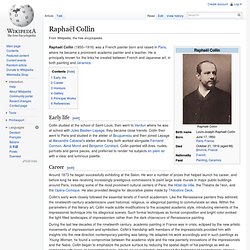 Our artists are the best in the business, and have created paintings for clients that include the rich and famous, major real estate developers, hotels, restaurants, museums, internationally renowned interior designers, and, most importantly, individual art lovers worldwide! On our site you can learn about how you can become the owner of genuine oil on canvas (or watercolor) works of art, lovingly painted by a real artist to your exact specifications. In the same way kings, queens and presidents used to commission portrait paintings in days gone by, you too can appoint one of our artists to create the painting of your dreams. Our collection numbers over 70,000 paintings by 4,000 artists…and that's not all. Even if the picture is not in our collection, we can paint it for you, and even paint from photos.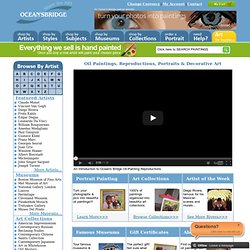 Oil Paintings - Reproductions