Blogs/Wikis
So...You Wanna Be A Blogger. So this is a blog.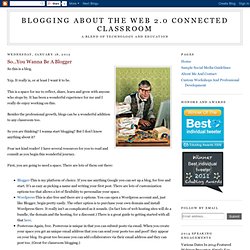 Yep. It really is, or at least I want it to be. Safe Student Blogging via iPad « techgirljenny. We love KidBlog.org because it offers a safe way for students to blog, allowing teachers to maintain control over posted content.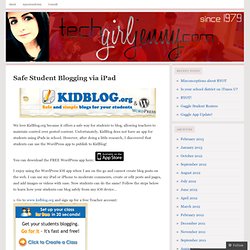 Unfortunately, KidBlog does not have an app for students using iPads in school. However, after doing a little research, I discovered that students can use the WordPress app to publish to KidBlog! You can download the FREE WordPress app here: OhLife helps you remember what's happened in your life. Blogs, Wikis, and Google Docs:Which one is right for your lesson? All of My Blogging Advice in One Place. So...You Wanna Be A Teacher Blogger? So this is a blog.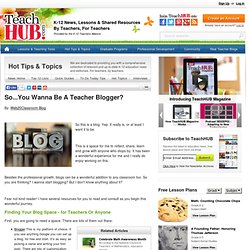 Yep. It really is, or at least I want it to be. This is a space for me to reflect, share, learn and grow with anyone who stops by. It has been a wonderful experience for me and I really do enjoy working on this. Add voice recording to your blog « tefltecher. Have you ever embedded a video in a blog and asked your students to leave a written comment?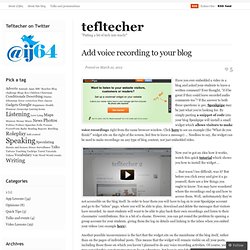 Ever thought, "it'd be great if they could leave recorded audio comments too"? If the answer to both these questions is yes, Speakpipe may be just what you're looking for. By simply pasting a snippet of code into your blog Speakpipe will install a small widget which allows visitors to make voice recordings right from the same browser window. Click here to see an example (the "What do you think?" HOW TO: Create A Blog. Every. Single. Step. How to Get Started Using Posterous Spaces.
---