Gardening
Blooming Christmas Cactus: Beautiful! Soil: Does well in almost any good garden soil. Needs no feeding except when buds begin to set. Water: Avoid overwatering.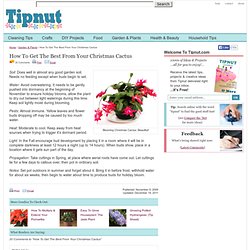 How To Get The Best From Your Christmas Cactus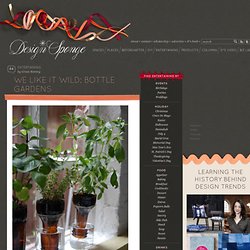 As much as we love to garden, sometimes there just aren't enough hours in the day to do it all. If there's a way we can shorten our to-do list, we'll take it. This week's project, a no-fuss recycled windowsill herb garden, has knocked watering the plants off our list. Self-watering planters like these aren't a new idea; we remember our own childhood craft books that taught us how to poke holes through Dixie cups or invert two liter plastic bottles to grow our own little bean garden. This grown-up version is much better looking and works great for small herbs and plants. We used beer bottles for ours, but you could make a larger garden with wine bottles too.
Quite the clever gardening tip here folks! Today's feature includes tips from three different sources for growing potatoes vertically (in layers) instead of spread out in rows across your garden. If you have limited garden space or want to try some nifty gardening magic, this could be a great option for you. First, there's this article from The Seattle Times: It's Not Idaho, But You Still Can Grow Potatoes: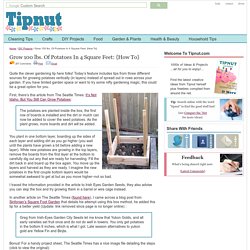 Putting Food By - Beef, Onions and Vanilla
A freezer door left open accidentally left me frantically trying to figure out what to do with the contents. I was especially concerned about the organic, free ranged, grass fed beef and chicken steadily thawing. I have this marvelous All American 921 pressure canner, which I had only used to cook meals in. For whatever reason, the idea of actually using it to CAN scared the self sufficient right out of me. So I posted on the Facebook page, "Take Back Urban-Homestead(s)" for help and support - and the members there came through in a hurry.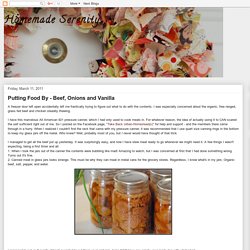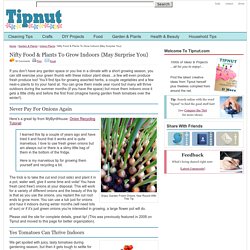 If you don't have any garden space or you live in a climate with a short growing season, you can still exercise your green thumb with these indoor plant ideas…a few will even produce fresh produce too! You'll find tips for growing assorted herbs, a couple vegetables and a few neat-o plants to try your hand at. You can grow them inside year round but many will thrive outdoors during the summer months (if you have the space) but move them indoors once it gets a little chilly and before the first frost (imagine having garden fresh tomatoes over the winter!).