Articles
20 novembre Ils sont datajournalistes et travaillent pour le le site du Guardian , Owni , Lemonde.fr , AskMédia ou J++ . Leur point commun : ils sont jeunes et ils ont un goût immodéré pour les données qu'ils aiment manipuler et décortiquer. Ces ventriloques de la data font parler chiffres et statistiques dans leurs articles, leurs applications ou leurs visualisations.
5 questions à 6 datajournalistes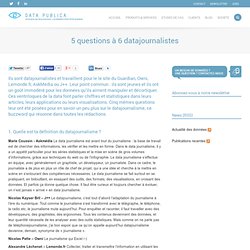 Formation Courrier Picard | Enquête sur le web
Earlier this year I set out to tackle a problem that was bothering me: journalists who had started to learn programming were giving up . They were hitting a wall.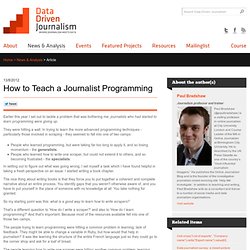 How to Teach a Journalist Programming
Journalists - become data literate in three steps Details Last Updated on Sunday, 24 June 2012 09:16 Published on Saturday, 23 June 2012 05:31 Written by Nicolas Kayser-Bril Just as literacy refers to 'the ability to read for knowledge, write coherently and think critically about printed material' data literacy is the ability to consume for knowledge, produce coherently and think critically about data.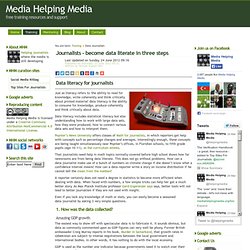 Journalists - become data literate in three steps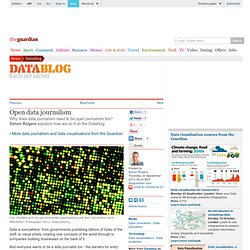 Open data journalism | News
Data is everywhere: from governments publishing billions of bytes of the stuff, to visual artists creating new concepts of the world through to companies building businesses on the back of it. And everyone wants to be a data journalist too - the barriers for entry have never been lower as free tools change the rules on who can analyse, visualise and present data. Truly, anyone can do it . At the same time, journalism has undergone a transformation; it's not that long ago that the only way to get a story published by a major news organisation involved years of training and interning and generally slaving away until you get noticed and published.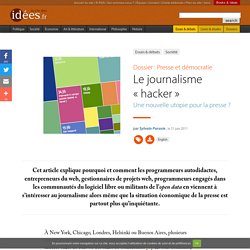 À New York, Chicago, Londres, Helsinki ou Buenos Aires, plusieurs centaines de personnes se rencontrent régulièrement, souvent dans des arrières salles de bars ou des salles de conférences [ 1 ] . Ils sont étudiants, journalistes, programmeurs ou chefs de projet web, et ils appellent ces réunions informelles des rencontres « hacks/hackers ». « Hacks » est une façon de dénommer les journalistes tandis que « hackers » désigne des passionnés d'informatique.
Data journalist handbook project
Rating: 5.0/ 5 (1 vote cast) By Federica Cocco Ravensbourne college is an ultramodern cubist design school which abuts the O2 arena on the Greenwich peninsula.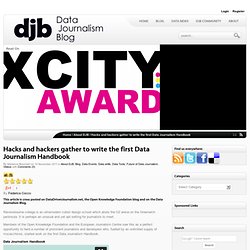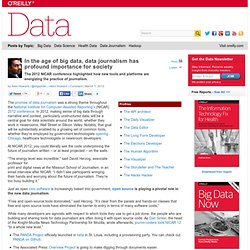 The promise of data journalism was a strong theme throughout the National Institute for Computer-Assisted Reporting's (NICAR) 2012 conference . In 2012, making sense of big data through narrative and context, particularly unstructured data, will be a central goal for data scientists around the world, whether they work in newsrooms, Wall Street or Silicon Valley. Notably, that goal will be substantially enabled by a growing set of common tools, whether they're employed by government technologists opening Chicago , healthcare technologists or newsroom developers.
In the age of big data, data journalism has profound importance for society
Le journalisme les doigts dans les données
Les data en forme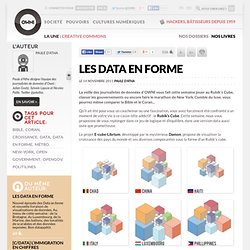 La veille des journalistes de données d'OWNI vous fait cette semaine jouer au Rubik's Cube, classer les gouvernements ou encore faire le marathon de New York. Comble du luxe, vous pourrez même comparer la Bible et le Coran...