Web 2.0 Tools
Dec December 28, 2013 | 3 Comments Flipped Classroom, Blended Learning, techy tools … These have been in our lives for a few years.
5 tools I'll use in 2014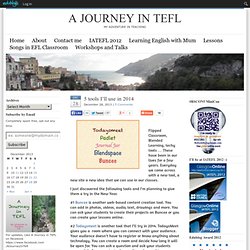 Card Kiwi is a new entry into the online flashcard market. Card Kiwi's appeal is in its simplicity. Flashcards on Card Kiwi are text only. As you flip through your flashcards you rate your understanding by simply clicking thumbs up, thumbs down, or thumbs sideways. Card Kiwi will show you the cards that you rate with a thumbs down or thumbs sideways more often than the others until you're using the thumbs up on every card in your set.
Card Kiwi - Create and Study Flashcards Online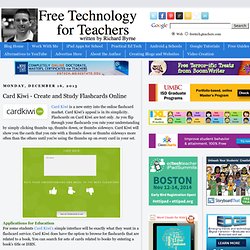 5 Cloud-Based Tools That Could Revolutionize Your Teaching This Year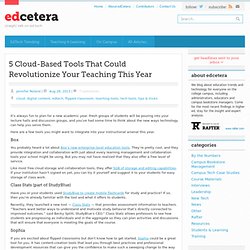 It's always fun to plan for a new academic year. Fresh groups of students will be pouring into your lecture halls and discussion groups, and you've had some time to think about the new ways technology can help you serve them. Here are a few tools you might want to integrate into your instructional arsenal this year.
17 Tech Terms Connected Educators Must Know
From time to time, I find myself saying ridiculous things. Ridiculous in the 'I grew up in the '80′s' sort of sense. Specifically, I have a hard time saying 'record' in reference to a TV show or movie, and instead I am inadvertently old-school and often refer to it as 'videotaping'.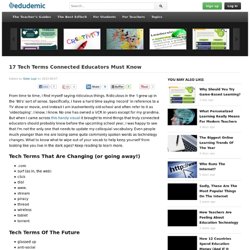 YouTube-mp3.org is the easiest online service for converting videos to mp3. You do not need an account, the only thing you need is a YouTube URL. We will start to convert the audiotrack of your videofile to mp3 as soon as you have submitted it and you will be able to download it. Different from other services the whole conversion process will be perfomed by our infrastructure and you only have to download the audio file from our servers. Because of this our software is platform-independent: You can use it with your Mac, a Linux PC or even an iPhone. All our conversions will be perfomed in high quality mode with a bitrate of at least 128 kBit/s.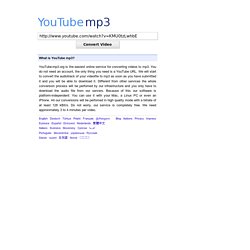 We're living in a Web 2.5 kinda world. If that makes no sense to you, check out this chart. It shows that Web 2.0 consists of cautiously adopting technology, schools are still online and offline, and parents still view school as daycare. But we're evolving past that in short order (in education's typical pace, that is). So what is Web 3.0 and how will it change education? What does that even mean?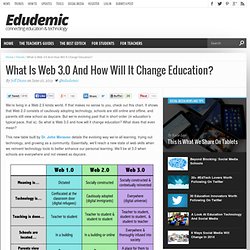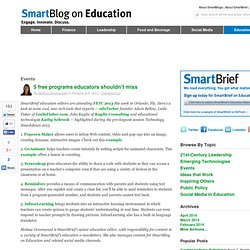 5 free programs educators shouldn't miss SmartBlogs
SmartBrief education editors are attending FETC 2013 this week in Orlando, Fla. Here's a look at some cool, new tech tools that experts — eduTecher founder Adam Bellow, Leslie Fisher of LeslieFisher.com, John Kuglin of Kuglin Consulting and educational technologist Kathy Schrock — highlighted during the pre-keynote session Technology Smackdown 2013. 1. Popcorn Maker allows users to infuse Web content, video and pop-ups into an image, creating dynamic, interactive images.
We're living in a Web 2.5 kinda world. If that makes no sense to you, check out this chart. It shows that Web 2.0 consists of cautiously adopting technology, schools are still online and offline, and parents still view school as daycare.
Hi everyone , this is Med wishing you all the best from Halifax,Canada. I hope you have had a great weekend and that you are ready to start a new week probably the last one before Christmas holiday. As is usual with articles like this one, Educational Technology and Mobile Learning prepares and reviews the new web tools that have been recently released . Our aim is to help you stay updated and keep you abreast of what is trending in the educational technology world. You can also check our Educational Web Tools page for more .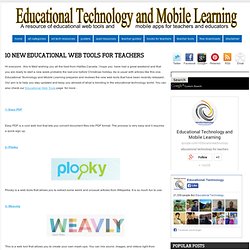 10 New Educational Web Tools for Teachers
Kollaborate.io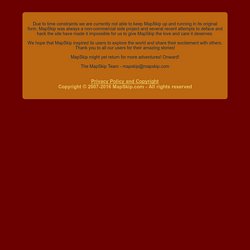 Zooming the Map To zoom the map you can click on the plus and minus symbols in the top left corner of the map. Alternatively, you can also zoom the map with a mouse scroll wheel. Moving the Map Click on the map with your mouse and keep the button pressed.
Great resources for teachers on grading rubrics, online quizzes, audio books, utilities, puzzle creators and more. Send me an email with any you find invaluable to your teaching job. Partial image: Nemo Developers and/or authors: If you have a website and/or book you would like considered for this list, please contact me so I can review it by clicking here. Thanks! Classroom Resources
Great Resources
Introduction "The times they are a-changing." Bob Dylan This is probably the most overused, yet most relevantquote on the planet. The times they are always changing and although the world continues to change with it, someeducational practices have become stagnant.
100 Web 2.0 Tools Every Teacher Should Know About 44.24K Views 0 Likes We're always trying to figure out the best tools for teachers, trends in the education technology industry, and generally doing our darnedest to bring you new and exciting ways to enhance the classroom. But I wanted t...
Social media types are being created, identified and defined constantly. With the exception of crowdsourcing, all other social media types can be used in social learning. Many of these are new, rather than repeats from a previous post.
List of Social Media Tools
The Three Ring Growth and Success Platform allows students and teachers to quickly collect qualitative evidence of learning. It's seamless to organize it, share it with the correct administrators, parents, or students, and build a dynamic running record of growth in any subject. Districts and schools are using Three Ring with 1-1 programs, BYOD, and for project-based-learning, performance tasks, flipped classrooms, portfolios, and more. Contact us now at (678) 296-6003 to learn how Three Ring can boost instruction, professional development, and parent communication in your district.
Web Tools for Teachers by Type