Web 2.0 Tools
In the midst of your preparation for getting back to school, I thought I might help you some by sharing with you a selection of web tools I personally deem important to try with your students this new school year. I have been reviewing hundreds of educational web tools here in Educational Technology and Mobile Learning and the ones below are the cream of the wheat of all that I have reviewed so far. I have delimited the list to include only 5 tools because the post itself is supposed to be short, however, a longer list featuring more than 30 top web tools will be posted here in the coming days so stay tuned .
My Top 5 Web Tools for Teachers
5 Cloud-Based Tools That Could Revolutionize Your Teaching This Year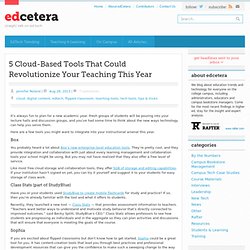 It's always fun to plan for a new academic year. Fresh groups of students will be pouring into your lecture halls and discussion groups, and you've had some time to think about the new ways technology can help you serve them. Here are a few tools you might want to integrate into your instructional arsenal this year.
321 Free Tools for Teachers - Free Educational Technology
17 Tech Terms Connected Educators Must Know
From time to time, I find myself saying ridiculous things. Ridiculous in the 'I grew up in the '80′s' sort of sense. Specifically, I have a hard time saying 'record' in reference to a TV show or movie, and instead I am inadvertently old-school and often refer to it as 'videotaping'.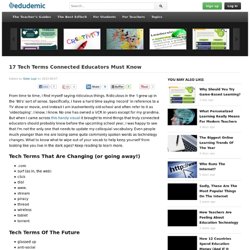 YouTube to mp3 Converter
Laura Candler Webinar-5 Amazing Web Tools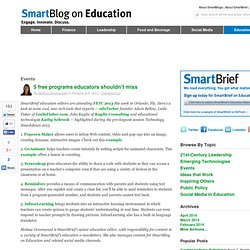 5 free programs educators shouldn't miss SmartBlogs
SmartBrief education editors are attending FETC 2013 this week in Orlando, Fla.
We're living in a Web 2.5 kinda world. If that makes no sense to you, check out this chart. It shows that Web 2.0 consists of cautiously adopting technology, schools are still online and offline, and parents still view school as daycare.
What Is Web 3.0 And How Will It Change Education?
About Glossi
Tools | Students
Hi everyone , this is Med wishing you all the best from Halifax,Canada.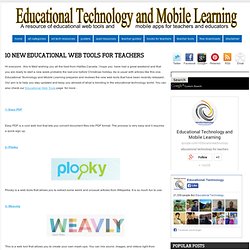 10 New Educational Web Tools for Teachers
35 Digital Tools That Work With Bloom's Taxonomy
Integrating technology in the classroom and engaging students in higher order thinking creates the ultimate learning experience for students.
MapSkip - Places Have Stories!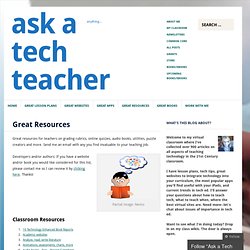 Great Resources Great resources for teachers on grading rubrics, online quizzes, audio books, utilities, puzzle creators and more.
Great Resources
Web Tools You Must Have
Pen.io - Publish Content Online
100 Web 2.0 Tools Every Teacher Should Know About 44.24K Views 0 Likes We're always trying to figure out the best tools for teachers, trends in the education technology industry, and generally doing our darnedest to bring you new and exciting ways to enhance the classroom. But I wanted t...
The 35 Best Web 2.0 Classroom Tools Chosen By You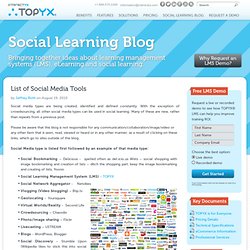 Social media types are being created, identified and defined constantly. With the exception of crowdsourcing, all other social media types can be used in social learning. Many of these are new, rather than repeats from a previous post.
List of Social Media Tools
The Super Book of Web Tools for Educators
embedit.in — Any file, in your website
MapAList - Create and Manage Maps of Address Lists
Tinkercad
Three Ring | An App for Teachers to Create Educational Portfolios of Student Work with an iPhone, iPad, or Android Smartphone
easy scheduling
Web Tools for Teachers by Type
thisissand.com