Game Design
Game Development Tutorials – Networking for Game Programmers. UDP vs.
TCP What is the best way to send data between machines? Do you use TCP sockets, UDP sockets or a mixture of both? In this article we explore this fundamental choice and decide on the best option for fast-paced action games. Sending and Receiving Packets. Video Game Development. Game Developer Magazine.
RockYou's new strategy: Rescue games that other publishers don't want RockYou is taking over Digital Chocolate and Playdom titles in two separate deals that bring 3 to 4 million players -- and some of the games' developers -- into its direct purview.
Video: Breaking down the seven-year development of Antichamber Indie developer Alexander Bruce shares what his development philosophy and what he learned in a postmortem discussion of the development of Antichamber given at GDC 2014. 'What's the best game dev educational resource you've ever used?' There's a lot of great educational resources out there that can help you refine your game development skills -- the trouble is knowing where to look. The Art & Business of Making Games. Game By Night » About. Game By Night Bio: Chris has been a gamer for as a long as he can remember.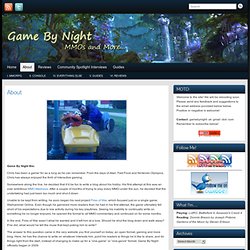 From the days of Atari: Fast Food and Nintendo Olympics, Chris has always enjoyed the thrill of interactive gaming. Somewhere along the line, he decided that it'd be fun to write a blog about his hobby. His first attempt at this was an over ambitious MMO Madness. After a couple of months of trying to play every MMO under the sun, he decided that the undertaking had just been too much and shut it down.
---