Insane Music
MARCONI UNION - WEIGHTLESS by Just Music label. Jurassic Park Theme (1000% Slower) by birdfeeder. A Stoner's Guide on Beats to Blaze to .1st Edition. | Silence Nogood - StumbleUpon. Posted by in Compilations, Hip-HopApr 20th, 2010 I decided for this very special occasion that I'd feature some of my favorite songs to get stoned to.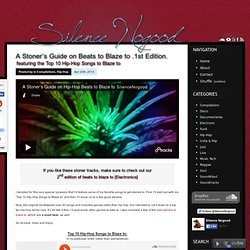 First, I'll start out with my "Top 10 Hip-Hop Songs to Blaze to" and then I'll move on to a few good albums. Now, the original list featured over 40 songs and included genres other than hip hop, but I decided to cut it down to a top ten hip-hop list for now. Biggie x Kanye - Suicidal Thoughts (White Lotus Runaway Mashup) by DJ White Lotus on SoundCloud - Create, record and share your sounds for free - StumbleUpon.
Shoreline Is - Parts per Million. Shoreline Is // I'd Hear the Clouds Move (2011) Shoreline Is - Off the World. PUMPED UP KICKS|DUBSTEP.
---