Genealogy
RootsWeb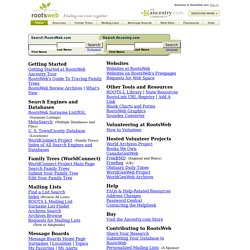 Getting StartedGetting Started at RootsWebAncestry TourRootsWeb's Guide To Tracing Family TreesRootsWeb Review Archives | SubscribeWhat's New | RootsWeb Newsroom Search Engines and DatabasesRootsWeb Surname List/RSL (Surname Listings)MetaSearch (Multiple Databases and Files)U. S. Town/County Database (Locations)WorldConnect Project (Family Trees)Index of All Search Engines and Databases
GEDitCOM Genealogy Software Home Page
GEDitCOM II is a new genealogy application for MacOS X that sets the standard for ease-of-use, for editing genealogy files, for a customizable user experience, and for power features allowing the greatest access to your genealogical data. GEDitCOM II is a complete rewrite of the former GEDitCOM application. Review the features of GEDitCOM II. Then, Download a free demo to try out those features, including importing your genealogy data from another application. When you are ready to buy, simply purchase a license that will unlock the demo version you already downloaded. If you choose not to buy, GEDitCOM II will switch to a free "reader mode" you can use to view GEDitCOM II files or to open genealogy GEDCOM files created by any software.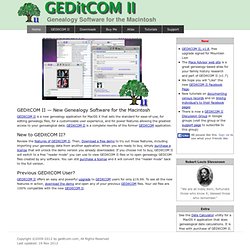 Find A Grave - Millions of Cemetery Records
Eastman's Online Genealogy Newsletter
February 15, 2014 - Citrus County Genealogical Society, Lecanto, Florida February 16, 2014 - Jewish Genealogical Society of Palm Beach County, Delray Beach, Florida February 20 to 22, 2014 - Who Do You Think You Are? Live!, London, England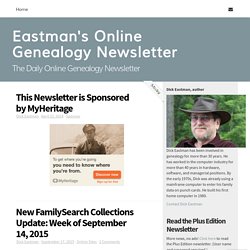 Mac Genealogy Software | Mac Genealogy News & Information
In just a few minutes (12pm Central, 1pm Eastern, 10am Pacific), we will see the announcement of a slew of new Apple products, as well as find out more information about the upcoming iOS 7 release. MacRumors has a great list of websites covering today's Apple iPhone/iOS event. AppleInsider is also live blogging it.