Business and Investing
Five Secrets Of Companies That Build Great Teams. Editor's note: This post is authored by guest contributor Jon Bischke.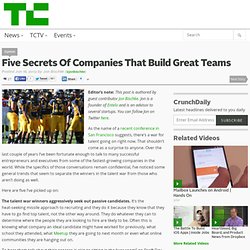 Jon is a founder of Entelo and is an advisor to several startups. You can follow Jon on Twitter here. As the name of a recent conference in San Francisco suggests, there's a war for talent going on right now. That shouldn't come as a surprise to anyone. Over the last couple of years I've been fortunate enough to talk to many successful entrepreneurs and executives from some of the fastest-growing companies in the world. Why Clayton Christensen Worries About Apple. Think You Deserve To Be Called a CEO? Editor's note: Alexander Haislip is a marketing executive with cloud-based server automation startup ScaleXtreme and the author of Essentials of Venture Capital.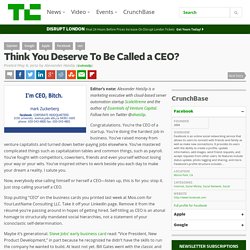 Follow him on Twitter @ahaislip. Congratulations. M.I.T. Game-Changer: Free Online Education For All. The Seven Habits of Spectacularly Unsuccessful Executives. The Brilliant Way To Negotiate In Three Easy Lessons. Editor's note: James Altucher is an investor, programmer, author, and entrepreneur.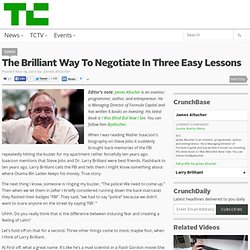 He is Managing Director of Formula Capital and has written 6 books on investing. His latest book is I Was Blind But Now I See. You can follow him @jaltucher. 50,000 Health IT Jobs: HIMSS, HR Gurus Want You - Healthcare - Leadership. Healthcare sees need for 50,000 more IT workers to support implementation of electronic health records and health information exchange.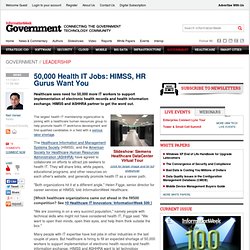 HIMSS and ASHHRA partner to get the word out. The largest health IT membership organization is joining with a healthcare human resources group to help promote health IT workforce development and find qualified candidates in a field with a serious labor shortage. Become a Millionaire on a Minimum-Wage Salary. Who wants to be a millionaire?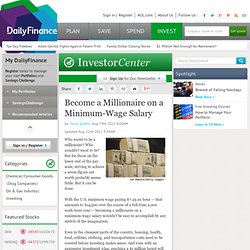 Who wouldn't want to be? But for those on the lower end of the pay scale, striving to achieve a seven-figure net worth probably seems futile. But it can be done. With the U.S. minimum wage paying $7.25 an hour -- that amounts to $14,500 over the course of a full-time 2,000 work-hour year -- becoming a millionaire on a minimum-wage salary wouldn't be easy to accomplish by any stretch of the imagination. Even in the cheapest parts of the country, housing, health, food, utilities, clothing, and transportation costs need to be covered before investing makes sense.
How To Build An Audience On The Internet: The Kevin Rose School Vs. The Fred Wilson School. Editor's note: This guest post is written by Tom Anderson, the former President, founder and first friend on MySpace.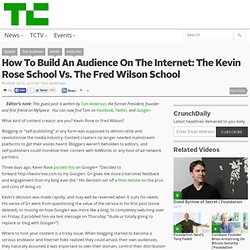 You can now find Tom on Facebook, Twitter, and Google+ What kind of content creator are you? Microsoft, Intel, Cisco (MIC) – Can The Troika Grow Again? (Part 2) Having discussed Microsoft in part 1 of this article , we will now examine its main hardware partner, Intel.
Intel The Wintel combination has dominated the PC era since its beginning, and continues until today. Hence, no wonder when Microsoft (NASDAQ: MSFT [FREE Stock Trend Analysis] ) stalls, so does Intel (NASDAQ: INTC ). The Declaration of Insurance Independence. Dave Chase is the founder and CEO of Avado, a TechCrunch Disrupt NYC finalist.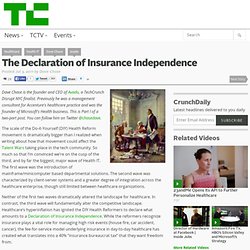 Previously he was a management consultant for Accenture's healthcare practice and was the founder of Microsoft's Health business. This is Part I of a two-part post. You can follow him on Twitter @chasedave. The scale of the Do-it-Yourself (DIY) Health Reform movement is dramatically bigger than I realized when writing about how that movement could affect the Talent Wars taking place in the tech community. So much so that I'm convinced we're on the cusp of the third, and by far the biggest, major wave of Health IT.
A Snapshot Of Zynga's Financials: Revenues Grew 392 Percent Last Year To $600 Million. Zynga finally filed for its IPO today, and we now we get to take a look at its financials.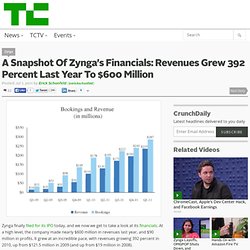 At a high level, the company made nearly $600 million in revenues last year, and $90 million in profits. It grew at an incredible pace, with revenues growing 392 percent in 2010, up from $121.5 million in 2009 (and up from $19 million in 2008). In just the first quarter of 2011 alone, the company's revenues reached $235 million (or a $940 million revenue run-rate), and that was up 134 percent from the first quarter of 2010.
Hussman Funds
How to Run Windows, Mac, and Linux Side by Side and Pain-Free with VirtualBox. @soldstatic: If you are serious about VMware and run guests all the time, you might do better by installing the free ESXi version on the bare hardware and run all of your systems as guests.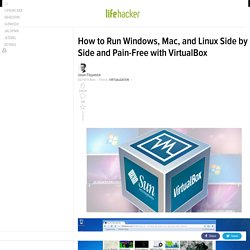 The main downside is that you don't get any local console access to the guests - you always have to use the windows client app for that. @soldstatic: The issue with VMware Server is the lack of updates/patches for a few years. VMware has claimed they are still working on VMware Server and there are definitely specific uses for it over any of these other VMware products. Just in case some other people aren't familiar or get confused with all the VMware stuff .... Inflated Tech Valuations? Blame Uncle Sam : Tech News « Are technology startup valuations in the middle of another bubble? The New York Times stoked the debate last month when it quoted famed venture capitalists John Doerr and Fred Wilson, who were seemingly agreeing that it is. One area of tech investing that seems especially "bubble-icious" is the secondary market where investors trade shares of private companies.
Last week, Bloomberg reported on a study by Nyppex LLC, a broker for secondary transactions, which found that valuations of private, VC-backed tech companies on the secondary market have risen a whopping 54 percent since June. Retail investors are so eager to get a piece of the action that they're paying a 31-percent premium over the valuations paid by institutional investors when they first put money into the startups, up from 12 percent in June. Light volume is part of the reason for the run-up in prices; the market simply isn't liquid.
---