Ideas
Seven Steps to Better Presentations by Jeffrey Veen
I've noticed a lot of talk about Powerpoint lately. About how it's so terrible and how it enables awful presentations. But the problem isn't Powerpoint, of course. The problem is bad content delivered poorly. I speak for a living, and hear lots and lots of presentations at the conferences I attend. Here are some notes I wrote up for someone who is about to give his first ever public presentation.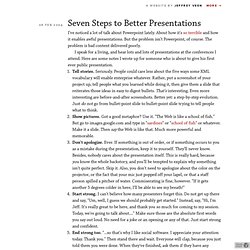 If you're a professional who likes to be intellectually stimulated and you enjoy keeping up with the latest news and breaking trends, the internet provides you with an endless choice of carefully curated sites to visit. Today, we bring you six of them that we believe are leaps and bounds above the rest. These sites will not only educate you on topics ranging from business and technology to art and design, they'll motivate you to find your own, original ideas and see them through. They're culturally relevant, they're idea driven and most of all, they're deeply inspirational. TED is short for three incredibly important subjects in our modern world; technology, entertainment and design. Started in 1984, TED brings together the most brilliant minds to teach us about issues that matter.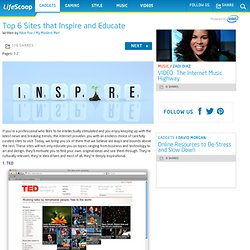 Crazy, New, and Exciting Ideas
Melinda Gates and Bill Gates Why giving away our wealth has been the most satisfying thing we've done In 1993, Bill and Melinda Gates—then engaged—took a walk on a beach in Zanzibar, and made a bold decision on how they would make sure that their wealth from Microsoft went back into society. In a conversation with Chris Anderson, the couple talks about their work at the Bill & Melinda Gates Foundation, as well as about their marriage, their children, their failures and the satisfaction of giving most of their wealth away.