Photo
Photography. DPointPhoto - Photographies de David Bonnefoy - David Bonnefoy Photography. Prismes : photographies de sophie thouvenin - macro fleurs yeux. Digital Cameras, Digital Camera Reviews - The Imaging Resource!
How to Use Ultra-Wide Lenses. August 2008 Nikon Reviews Canon Reviews Leica Reviews Pentax Reviews Introduction Ultrawide lenses are the most difficult lenses to use well.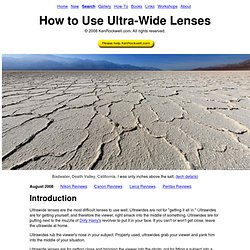 Ultrawides are not for "getting it all in. " Ultrawides are for getting yourself, and therefore the viewer, right smack into the middle of something. KenRockwell.com.
---