Television
A review is an evaluation of a publication, product, service, or company such as a movie (a movie review), video game, musical composition (music review of a composition or recording), book (book review); a piece of hardware like a car, home appliance, or computer; or an event or performance, such as a live music concert, play, musical theater show, or dance show. In addition to a critical evaluation, the review's author may assign the work a rating to indicate its relative merit. More loosely, an author may review current events, trends, or items in the news. A compilation of reviews may itself be called a review.
Reviews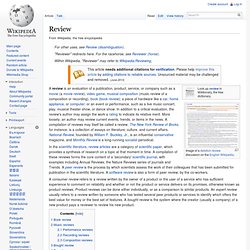 13.01.14 We continue our series with the Observations in TNG: "The Best of Both Worlds, Part II". Find the complete HD cap gallery of the spectacular episode at TrekCore and the new screen HD caps in all the old articles of the Wolf 359 project. 12.01.14 While only 2 or 3 of the almost 100,000 internal links on EAS are broken at any time, I have naturally no control over the 6,000 external links.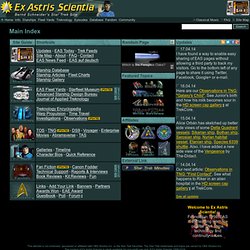 Memory Alpha is not endorsed, sponsored, or affiliated with CBS Studios Inc. or the "Star Trek" franchise.The Star Trek trademarks, logos, and related names are owned by CBS Studios Inc., and are used under "fair use" guidelines.The user-created content of this site is released under the Creative Commmons "Attribution-NonCommercial" license version 2.5, which can be found here. See Memory Alpha: Copyrights for more information.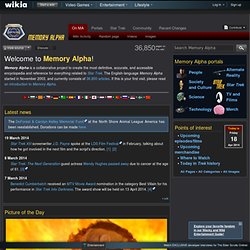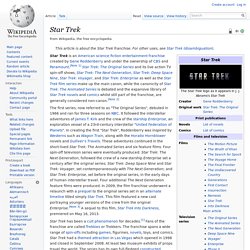 Star Trek is an American science fiction entertainment franchise created by Gene Roddenberry and currently under the ownership of CBS and Paramount.[Note 1] Star Trek: The Original Series and its live action TV spin-off shows, Star Trek: The Next Generation, Star Trek: Deep Space Nine, Star Trek: Voyager and Star Trek: Enterprise as well as the Star Trek film series make up the main canon. There has also been Star Trek: The Animated Series.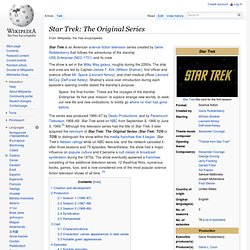 TOS
The show is set in the Milky Way galaxy, roughly during the 2260s. The crew is headed by Captain James T. Kirk (William Shatner), first officer Spock (Leonard Nimoy), and chief medical officer Leonard McCoy (DeForest Kelley). Shatner's voice-over introduction during each episode's opening credits stated the starship's purpose:
Star Trek: Enterprise (originally titled Enterprise for the first two seasons) is a science fiction TV series and a prequel to the original Star Trek. The series premiered September 26, 2001 on the UPN television network with the final episode airing on May 13, 2005.[1] Production[edit] In May 2000, Rick Berman, executive producer of Star Trek: Voyager, revealed that a new series would premiere following the final season of Voyager.[3] Little news was forthcoming for months as Berman and Brannon Braga developed the untitled series, known only as "Series V", until February 2001, when Paramount signed Herman Zimmerman and John Eaves to production design Series V.[4] Within a month, scenic designer Michael Okuda, another long-time Trek veteran, was also signed.[5] Michael Westmore, make-up designer for Trek since Star Trek: The Next Generation (TNG), was announced as working on Series V by the end of April.[6] Returning as director of photography would be Marvin V.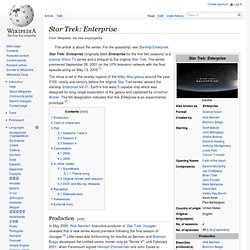 ENT
Series overview[edit] Episodes[edit] Abbreviations:
List of Star Trek: Enterprise episodes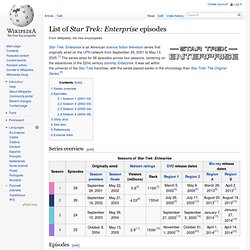 Series and movie settings[edit] This table shows each TV series and movie, its year of release or broadcast, the year it was set in, according to the prevailing Okuda chronology (see below) and the stardate range for that year. The designation Enterprise-based series are the series that featured the various incarnations of the starship USS Enterprise. In universe timeline chronological order Star Trek Enterprise (ENT), Star Trek: The Original Series (TOS), Star Trek: The Animated Series (TAS), Star Trek: The Next Generation (TNG) and all 12 of the Star Trek feature films including the two newest J.J. Abrams alternate reality films based on the original series.
Timeline