Television
A review is an evaluation of a publication, product, service, or company such as a movie (a movie review), video game, musical composition (music review of a composition or recording), book (book review); a piece of hardware like a car, home appliance, or computer; or an event or performance, such as a live music concert, play, musical theater show, or dance show. In addition to a critical evaluation, the review's author may assign the work a rating to indicate its relative merit. More loosely, an author may review current events, trends, or items in the news. A compilation of reviews may itself be called a review.
Reviews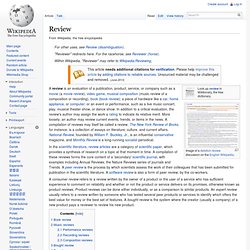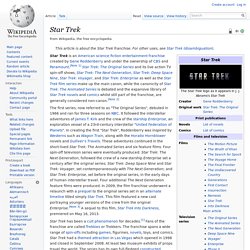 Star Trek is an American science fiction entertainment franchise created by Gene Roddenberry and currently under the ownership of CBS and Paramount.[Note 1] Star Trek: The Original Series and its live action TV spin-off shows, Star Trek: The Next Generation, Star Trek: Deep Space Nine, Star Trek: Voyager and Star Trek: Enterprise as well as the Star Trek film series make up the main canon. There has also been Star Trek: The Animated Series.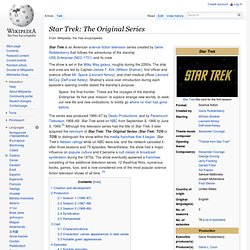 TOS
The show is set in the Milky Way galaxy, roughly during the 2260s. The crew is headed by Captain James T. Kirk (William Shatner), first officer Spock (Leonard Nimoy), and chief medical officer Leonard McCoy (DeForest Kelley). Shatner's voice-over introduction during each episode's opening credits stated the starship's purpose:
Star Trek: Enterprise (originally titled Enterprise, for the first two seasons) is a science fiction TV series and a prequel to the original Star Trek. The series premiered September 26, 2001 on the UPN television network with the final episode airing on May 13, 2005.[1] The show is set in the nearby regions of the Milky Way galaxy, roughly during the 2150s, about one century before Star Trek: The Original Series, aboard Earth's first warp 5 capable starship Enterprise NX-01 designed for long-range exploration of the galaxy and captained by Jonathan Archer. The NX designation indicates that this Enterprise is an experimental prototype.[2] Production[edit]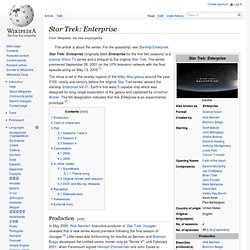 ENT
Series overview[edit] Episodes[edit] Abbreviations:
List of Star Trek: Enterprise episodes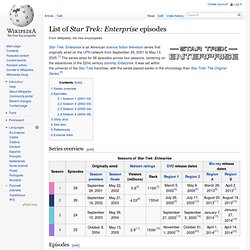 Series and movie settings[edit] This table shows each TV series and movie, its year of release or broadcast, the year it was set in, according to the prevailing Okuda chronology (see below) and the stardate range for that year. The designation Enterprise-based series are the series that featured the various incarnations of the Starship USS Enterprise. In universe timeline chronological order Star Trek Enterprise (ENT), Star Trek: The Original Series (TOS), Star Trek: The Animated Series (TAS), Star Trek: The Next Generation (TNG) and all 12 of the Star Trek movies including the two newest J.J. Abrams alternate reality films based on the original series.
Timeline