Internet Research
Specialized Searching. Moreofit - Website Similarity Search Engine. Scrible | smarter online research - annotate, organize & collaborate on web pages. DEVONagent Pro. This is a modal dialog The message Solutions.
DEVONagent explained. Search Features. 50 Awesome Search Engines Every Librarian. Posted on Tuesday July 22, 2008 by Staff Writers Students, teachers and the public turn to their librarians for help researching everything from technology to genealogy to homework help and lesson plans.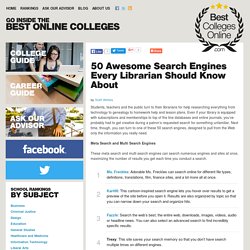 Even if your library is equipped with subscriptions and memberships to top of the line databases and online journals, you've probably had to get creative during a patron's requested search for something unfamiliar. Next time, though, you can turn to one of these 50 search engines, designed to pull from the Web only the information you really need. Meta Search and Multi Search Engines. Top 25 Web 2.0 Search Engines. Online search is now a multi-billion dollar industry, with Google alone grossing over $3.5 billion in profits last year.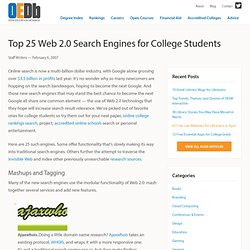 It's no wonder why so many newcomers are hopping on the search bandwagon, hoping to become the next Google. And those new search engines that may stand the best chance to become the next Google all share one common element — the use of Web 2.0 technology that they hope will increase search result relevance. We've picked out of favorite ones for college students so try them out for your next paper, online college rankings search, project, accredited online schools search or personal entertainment.
Here are 25 such engines. Some offer functionality that's slowly making its way into traditional search engines. Web mining. El Web mining o Webmining es una metodología de recuperación de la información que usa herramientas de la minería de datos para extraer información tanto del contenido de las páginas, de su estructura de relaciones (enlaces) y de los registro de navegación de los usuarios.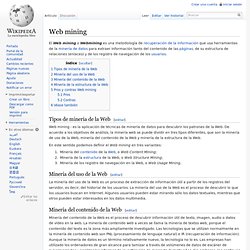 Tipos de minería de la Web[editar] Web mining - es la aplicación de técnicas de minería de datos para descubrir los patrones de la Web. De acuerdo a los objetivos de análisis, la minería web se puede dividir en tres tipos diferentes, que son la minería de uso de la Web, minería del contenido de la Web y minería de la estructura de la Web. En este sentido podemos definir el Web mining en tres variantes: Mining the Social Web: Analyzing Data from Facebook, Twitter, LinkedIn, and Other Social Media Sites (9781449388348): Matthew A. Russell.
---