Twitter Marketing
Twitter PR essentials I just love the sound of Twitter in the morning, don't you? This week, we've got 41 42 terrific Twitter tips from a range of experts to ensure you're at the top of your PR Twitter game.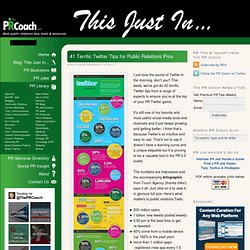 41 Terrific Twitter Tips for Public Relations Pros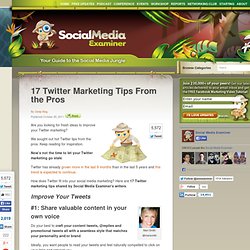 17 Twitter Marketing Tips From the Pros
Are you looking for fresh ideas to improve your Twitter marketing?
Posted on 22. Jul, 2009 by hilzfuld in Web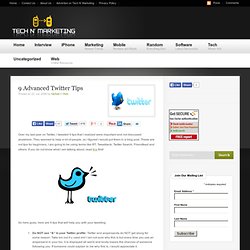 9 Advanced Twitter Tips
35 Twitter Tips from 35 Twitter Users
Twenty-One Top Twitter Tips - Forbes.com
Tips (twitter_tips) on Twitter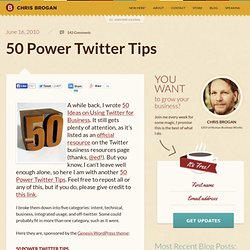 A while back, I wrote 50 Ideas on Using Twitter for Business .
50 Power Twitter Tips
140 Twitter Tips
Twittin' Secrets: 100 World's Greatest Twitter Tips & Twitter Secrets - 101 "Twitter How to" Power Strategies
Twitter Tips — Use Twitter to Its Full Potential
40 Tried And Tested Twitter Tips For Newbies, Apprentices And Pros
socialsupport / Shoq's Twitter Tips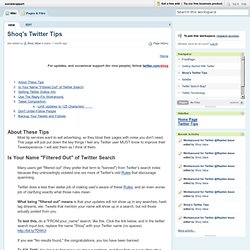 Home
In May of 2009 we asked you, our loyal readers, to give us your best Twitter tips . Over the course of several weeks, we accepted your tips via email, Twitter and in comments to the original post. We asked readers to simply answer one of the following 6 questions:
137 Small Business Twitter Tips