Twitter Marketing
41 Terrific Twitter Tips for Public Relations Pros. Twitter PR essentials I just love the sound of Twitter in the morning, don't you?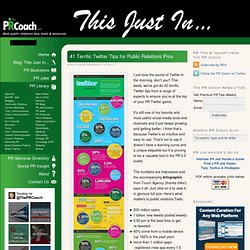 This week, we've got 41 42 terrific Twitter tips from a range of experts to ensure you're at the top of your PR Twitter game. 17 Twitter Marketing Tips From the Pros. Are you looking for fresh ideas to improve your Twitter marketing?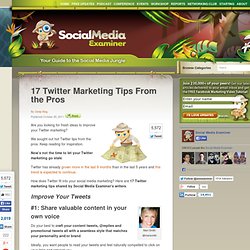 We sought out hot Twitter tips from the pros. Keep reading for inspiration. Now's not the time to let your Twitter marketing go stale. 9 Advanced Twitter Tips. Posted on 22.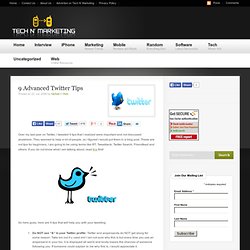 Jul, 2009 by hilzfuld in Web inShare46 Over my last year on Twitter, I tweeted 9 tips that I realized were important and not discussed anywhere. They seemed to help a lot of people, so I figured I would put them in a blog post. These are not tips for beginners, I am going to be using terms like RT, Tweetdeck, Twitter Search, Friendfeed and others. 35 Twitter Tips from 35 Twitter Users. Twenty-One Top Twitter Tips - Forbes.com. Twitter Guide Book – How To, Tips and Instructions by Mashable. Tips (twitter_tips)
Twitter Tips - TwiTip. 50 Power Twitter Tips. A while back, I wrote 50 Ideas on Using Twitter for Business.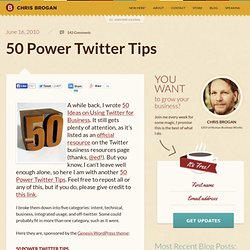 It still gets plenty of attention, as it's listed as an official resource on the Twitter business resources page (thanks, @ed!). But you know, I can't leave well enough alone, so here I am with another 50 Power Twitter Tips. Feel free to repost all or any of this, but if you do, please give credit to this link.
140 Twitter Tips. Twittin' Secrets: 100 World's Greatest Twitter Tips & Twitter Secrets - 101 "Twitter How to" Power Strategies. Twitter Tips — Use Twitter to Its Full Potential. 40 Tried And Tested Twitter Tips For Newbies, Apprentices And Pros. How to Attract and Influence People on Twitter (The Ultimate Twitter Resource) Socialsupport / Shoq's Twitter Tips. Home For updates, and occasional support (for nice people), follow twitter.com/shoq Most tip services want to sell advertising, so they bloat their pages with noise you don't need.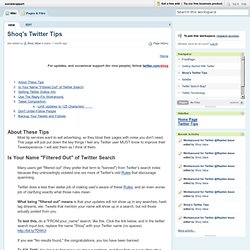 This page will just put down the key things I feel any Twitter user MUST know to improve their Tweetsperience. 137 Small Business Twitter Tips. 0In May of 2009 we asked you, our loyal readers, to give us your best Twitter tips.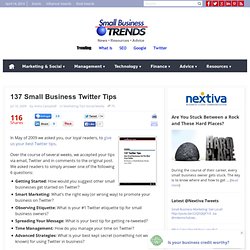 Over the course of several weeks, we accepted your tips via email, Twitter and in comments to the original post. We asked readers to simply answer one of the following 6 questions:
---