Food
Blend It and Mend It! | How I turn my VitaMix blender into my #1 anti-aging tool. Black Magic Cake (Best Chocolate Cake Ever!) | Chocolate Recipes | Sqrlmama. Lisa's notes for this recipe: When my mother passed away, a close family friend made us two wonderful cakes.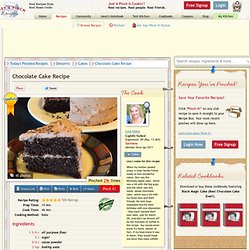 One was the Kentucky Apple cake, which was a hit with the big guys, and the other was this moist, dense chocolate cake, which was a hit with my three sons and their friends. My twin boys requested this for their birthday with one stipulation - they each wanted their own cake, just for them! Oh, and don't be thrown off by the inclusion of coffee in the recipe. You would never know it's there. Keeping the Bulge at Bay. Because Barenaked Chef said so... I've made quite a few "copycat" recipes, most of those not quite up to snuff.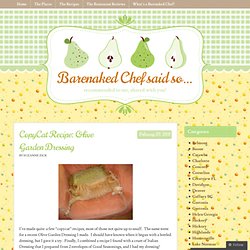 The same went for a recent Olive Garden Dressing I made. I should have known when it began with a bottled dressing, but I gave it a try. Finally, I combined a recipe I found with a cruet of Italian Dressing that I prepared from 2 envelopes of Good Seasonings, and I had my dressing! Comeback Sauce | Syrup and Biscuits. Ask anyone from Mississippi if they know about Comeback Sauce and they will look at you shocked for even asking the question.
Of course, everyone in Mississippi knows about Comeback Sauce. Even if you've never heard the name, you probably know it, too. The sauce that's served by the steak house chain made famous by the onions that bloom, is reminiscent of Comeback Sauce. Chances are you've had it on a burger or sandwich at a new age sandwich shop. The Lady's Chicken Noodle Soup. Ingredients Add to grocery list 4 bay leaves 3 chicken bouillon cubes 1 onion, peeled and diced 1 teaspoon Paula Deen Lemon Pepper Seasoning 3 cloves garlic, minced 1 2 1/2 to 3-pound fryer (chicken), cut up 1 1/2 to 2 teaspoon Italian seasoning 3 1/2 quart water kosher salt and pepper to taste For Step 2: 2 cups sliced carrots 2 cups sliced celery, with leafy green tops 2 1/2 cups uncooked egg noodles 3 tablespoons chopped fresh parsley 1 cup grated Parmesan cheese (optional) 3/4 cup heavy cream (optional) 1/3 cup cooking sherry 1 cup sliced mushrooms Fresh parsley 2 teaspoons chopped fresh rosemary Paula Deen Seasoned Salt to taste freshly ground black pepper to taste crusty french bread, for serving For the stock: add all ingredients to a soup pot.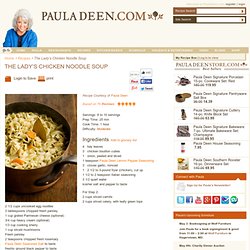 Cook until chicken is tender, about 35 to 45 minutes. Buttermilk Caramel Syrup.
---