Antivirus
eSafe's security modules use multiple technologies to protect your network and emails from malicious code, spyware, and attempts to exploit web applications vulnerabilities that lead to malware infection. Unlike other solutions that focus mainly on inspecting downloadable files for viruses, eSafe provides (with the Kaspersky engine) malweb detection (specific web malware). Malweb is hidden within standard web content and is designed to exploit various vulnerabilities on Internet-enabled applications, such as browsers, browser plug-ins, and any other application that interacts with the web.
eSafe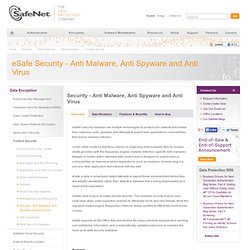 PANDA
Norman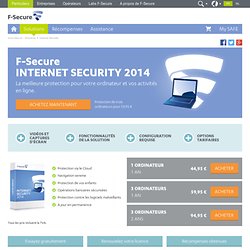 Plates-formes prises en charge Windows 8 Windows 7 (toutes les éditions) Windows Vista (toutes les éditions) Windows XP Édition familiale Windows XP Édition professionnelle Windows XP Édition Media Center Configuration requise pour Microsoft® Windows® 7* ou Windows Vista* Processeur : compatible avec Windows 7 ou Windows Vista Mémoire : 512 Mo (1 Go recommandé) Espace disque : 600 Mo maximum durant l'installation Navigateur : Internet Explorer 6.0 minimum Lecteur de CD-ROM et connexion Internet rapide*
F-Secure
McAfee
Computer Virus Attacks, Information, News, Security, Detection and Removal | McAfee
Trend Micro
Vos appareils. Votre confidentialité. Vos données. Votre famille. Désormais, votre famille peut travailler et jouer sur le Web sans que vous ayez à vous soucier des virus, des programmes espions, de l'usurpation d'identité ou de la sécurité de vos enfants. Nous offrons une technologie de pointe de sécurité mobile aussi bien adaptée aux dispositifs Android qu'aux iPhones et iPads.