Théorie
A Closer Look at Hierarchy in Web Design. Many times designers will depend on other great designs for inspiration, trends, or 'tricks of the trade' to get by.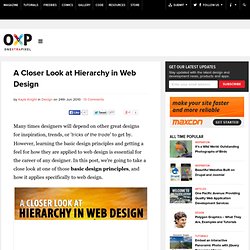 However, learning the basic design principles and getting a feel for how they are applied to web design is essential for the career of any designer. In this post, we're going to take a close look at one of those basic design principles, and how it applies specifically to web design. Hierarchy is the element that makes users look where they do and when they do it. The top hierarchical element on a web page will be the first thing the user sees, and the lowest will be the last. It's easy to see why hierarchy has such a profound effect on web design — it's all about the user experience, and any website's presentation to the user. Website Archives Design: Good Practices and Examples - Smashing Magazine.
Advertisement The archive is one of those often-overlooked parts of a website that doesn't get the attention it deserves.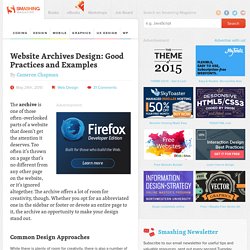 Too often it's thrown on a page that's no different from any other page on the website, or it's ignored altogether. The archive offers a lot of room for creativity, though. Beginners Guide to Using the Power of Color in Web Design. Good color choices should never be taken for granted in web design.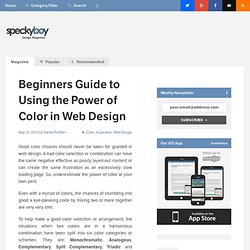 A bad color selection or combination can have the same negative effective as poorly layed-out content or can create the same frustration as an excessively slow loading page. So, underestimate the power of color at your own peril. Even with a myriad of colors, the chances of stumbling into good a eye-pleasing color by mixing two or more together are very very slim. To help make a good color selection or arrangement, the situations when two colors are in a harmonious combination have been split into six color categories or schemes.
Case-Study: Deconstructing Popular Websites (Opinion Column) - Smashing Magazine. Advertisement In our past articles, we've experimented with better ways to engage users on web pages with CSS31.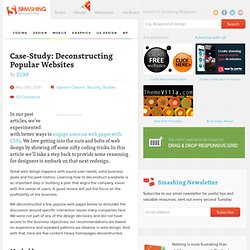 We love getting into the nuts and bolts of web design by showing off some nifty coding tricks. In this article we'll take a step back to provide some reasoning for designers to embark on that next redesign. The Case Against Vertical Navigation - Smashing Magazine. Advertisement In a recent article about unusable and superficial beer and alcohol websites, I made the claim that using left-hand vertical navigation is an out-of-date method in modern web design.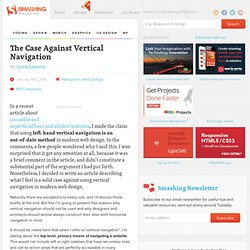 In the comments, a few people wondered why I said this. I was surprised that it got any attention at all, because it was a brief comment in the article, and didn't constitute a substantial part of the argument I had put forth. Nonetheless, I decided to write an article describing what I feel is a solid case against using vertical navigation in modern web design. 10 Principles Of Effective Web Design - Smashing Magazine. Advertisement Usability and the utility, not the visual design, determine the success or failure of a web-site.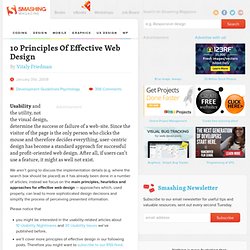 Since the visitor of the page is the only person who clicks the mouse and therefore decides everything, user-centric design has become a standard approach for successful and profit-oriented web design. After all, if users can't use a feature, it might as well not exist.
---