Web Building
Color Scheme Designer 3. AnythingSlider. Download from GitHub Lots of people have worked on AnythingSlider and there is a lot more to it than you can see here (themes, effects, options, etc).
Go snag the code from GitHub to see the full monty. Features. Responsive Web Design. The English architect Christopher Wren once quipped that his chosen field "aims for Eternity," and there's something appealing about that formula: Unlike the web, which often feels like aiming for next week, architecture is a discipline very much defined by its permanence.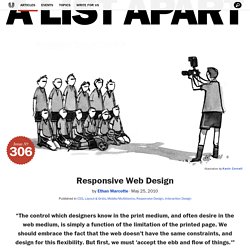 A building's foundation defines its footprint, which defines its frame, which shapes the facade. Each phase of the architectural process is more immutable, more unchanging than the last. Creative decisions quite literally shape a physical space, defining the way in which people move through its confines for decades or even centuries. Working on the web, however, is a wholly different matter. Our work is defined by its transience, often refined or replaced within a year or two.
CMS's. Ragic - Web Database Application Builder, application builder, database builder, database application builder, online database builder, online application builder, Online Database Application Builder, Web application builder. Ragic is basically a Database Application Builder with light configuration that has been formatted in a way to make building database applications as easy as using spreadsheet.
Ragic aims at providing you with a faster and easier way of creating enterprise Web applications by providing spreadsheet style user interface as is the current working mechanism. Ragic was initially launched as a data composition that was highly flexible and also a database component. This data composition helps users to work freely without having to worry about other intricate details of design and patterns of data format. However, with time the utility and preference for spreadsheets transform Ragic into a light weighted development tool having a spreadsheet interface that can fasten up the process of creating database applications. The entire process of Ragic is very simple and flexible as it is not developed based upon any database table. Web Developer's Virtual Library: The Open Source Reference Library - JavaScript, Perl, HTML, PHP, Perl, Python Ruby, Rails, Soap and more!
Design. Learning. Bootstrap, from Twitter. IIS. DRUPAL. Drupal7. C#. Help - AddThis Client API. Oscmax2 - Project Hosting on Google Code. OsCmax is a powerful e-commerce/shopping cart web application. osCmax has all the features needed to run a successful internet store and can be customized to whatever configuration you need.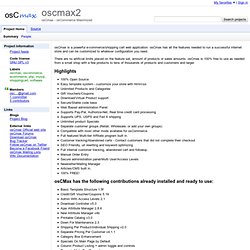 There are no artificial limits placed on the feature set, amount of products or sales amounts. osCmax is 100% free to use as needed from a small shop with a few products to tens of thousands of products and customers and larger. Highlights 100% Open Source Easy template system - customize your store with html/css Unlimited Products and Categories Gift Vouchers/Coupons Download/Virtual Product support Secure/Stable code base Web Based administration Panel Supports Pay-Pal, Authorize-Net, Real time credit card processing Supports UPS, USPS and Fed X shipping Unlimited product Specials Separate customer groups (Retail, Wholesale, or add your own groups) Compatible with most other mods available for osCommerce.
Full featured Multi-tier Affiliate program built in.
---