Cascading Style Sheets
CSS Lifted corner Drop Shadow. .box{ width:200px; height:100px; .drop-shadow {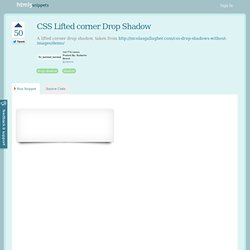 Samples. CSS Design: Taming Lists. As early as July of 1999 I was pontificating on email lists about the virtues of style sheets.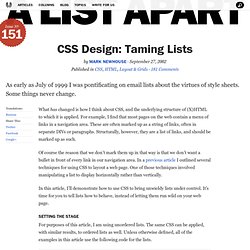 Some things never change. What has changed is how I think about CSS, and the underlying structure of (X)HTML to which it is applied. The Shapes of CSS. Top 13 HTML5 – CSS3 frameworks to spice up your projects. HTML5 and CSS3 represent the near future of the web.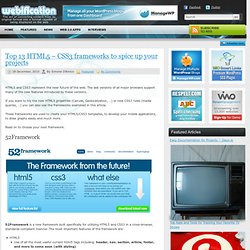 The last versions of all major browsers support many of the new features introduced by these versions. If you want to try the new HTML5 properties (Canvas, Geolocalization, …) or new CSS3 rules (media queries, …) you can also use the frameworks examined in this article. These frameworks are used to create your HTML5/CSS3 templates, to develop your mobile applications, to draw graphs easily and much more. Read on to choose your next framework. Css3.
---