Proyectos
Projects - Archigram Archival Project
Elizabeth Gilbert on nurturing creativity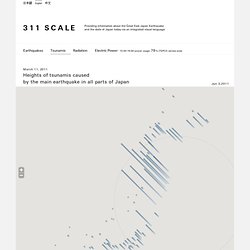 311 SCALE
We would like to offer our deepest sympathies to all of those affected by the Great East Japan Earthquake. Although the destruction of entire towns over an area stretching for 500 kilometers to the north and south is of an almost unimaginable scale, we believe that this immense devastation can be overcome and we hope that during the process of rebuilding the disaster-affected region, we can also discover a path for the future of Japan and the world. The earthquake has also brought the new crisis of radioactive contamination to Japan. Not only is there the physical issue of the cleanup following the nuclear accident, but one of the first steps on the path to recovery must be to reduce the negative image which people have of Japan as a country contaminated by nuclear radiation, and thereby lessen the damage to Japanese industry, by presenting the world with an objective look at the current situation – at least within a range that is reasonable to modern science.
Carlo Ratti: Architecture that senses and responds
Treating Cancer with Landscape Architecture
An Associated Press article published by The New York Times a couple of months ago told us that the Elysian and Silver Lake—the "two reservoirs that supply drinking water" to sections of Los Angeles—were found to contain "high levels of the carcinogen bromate." When alerted, the city's Department of Water and Power took them both out of service and announced that beginning early this year, they would drain, clean and refill the reservoirs, a process that could last until the summer. Alternatively, they could consider implementing in parts or in whole a design proposal from out of the Department of Landscape Architecture at the California Polytechnic State University in Pomona.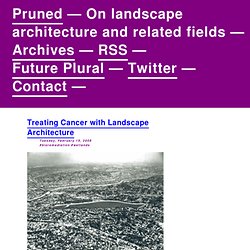 Architects: Charles Wright Architects Location: Queensland, Australia Architect In Charge: Charles Wright Project Team: Charles Wright, Richard Blight, Justine Wright, Darcy Shapcott Year: 2013 Photographs: Patrick Bingham Hall Structural Engineering: G&A Consultants Pty Ltd Civil Engineering: McPherson MacLean Wargon Chapman Hydraulics: Gilboy Hydraulic Solutions Electrical & Mechanical Engineering: MGF Consultants Quantity Surveyor: Turner & Townsend Landscape Architect: Andrew Prowse Contractor: PD Builders CWA were approached by the project client to deliver a carbon neutral (in operation) solution for an environmentally sensitive site off-grid on the edge of the FNQ beachfront rainforest. The aim was not to simply produce an engineered outcome but produce a building which made the most of the sites natural amenity and re-introduced the surrounding native wetland environment.
Stamp House / Charles Wright Architects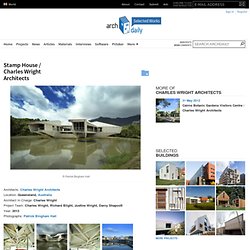 Natural Fuse : home / map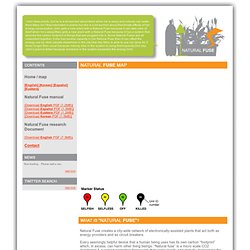 Natural Fuse creates a city-wide network of electronically-assisted plants that act both as energy providers and as circuit breakers. Every seemingly helpful device that a human being uses has its own carbon "footprint" which, in excess, can harm other living beings. "Natural fuse" is a micro scale CO2 monitoring & overload protection framework that works locally and globally, harnessing the carbon-sinking capabilities of plants. Natural fuses allow only a limited amount of energy to be expended in the system; that amount is balanced by the amount of CO2 that can be absorbed by the plants that are growing in the system.
Architects: Atelier d'Architecture Alexandre Dreyssé Location: Drancy, France Project Director: Alexandre Dreyssé Architectural Assistant: Sébastien Muller Area: 1,581 sqm Year: 2011 Photographs: Clément Guillaume Engineers: Betom Ingénierie Structural Wood Engineers: Tec Bois Environmental Engineers: Cap Terre Client: Ville de Drancy The gymnasium Regis Racine is situated in Drancy north east Paris. the program of this building includes: an indoor sports hall 22 meters long and 44 meters large, a dance hall, a space for local associations and dressing rooms for teams and referees. It was designed for pupils of schools and colleges of the city of Drancy area, local associations and sports clubs. The sport hall was optimized for basketball regional competitions.
Gymnasium Régis Racine / Atelier d'Architecture Alexandre Dreyssé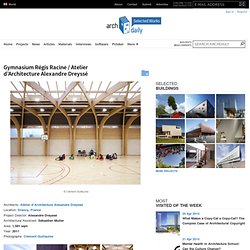 :: M U L T I P L I C I T Y ::
In recognition of the spiritual nature of humanity and the importance of prayer, meditation and reflection – Bahá'í temples, also known as Houses of Worship, have been established in different parts of the world and are open to all. Light is the fundamental connecting force of the projects. The Bahá'í Temple for South America, designed by Hariri Pontarini Architects, employs both translucent stone and the newest glass technology as means of generating and manifesting both the physiological and spiritual delights of natural light embodied in architecture. Set against the stirring background of the Andean mountain range, the new Temple is to be a crystallizing of light-as-expression, an evanescent structure of white alabaster and glass: a place of pure luminescence. During the day, it is the soft undulating alabaster and glass skin of the Temple which forms its outer expression.
Bahá'í Temple for South America / Hariri Pontarini Architects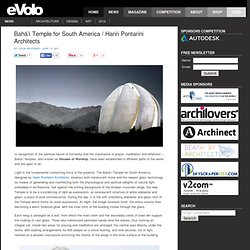 designbiocentrimos
Practice as LifeSpan heshotmedown << / >> TerraIncognita Spidernethewood 2 (with growing plants)>> A report from Bruce Sterling / 2030 ; Thirty long years had overpassed our rolling globe since the unveiling of Roche's legendary web-house.
we lost it 2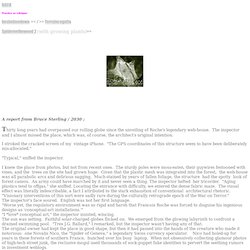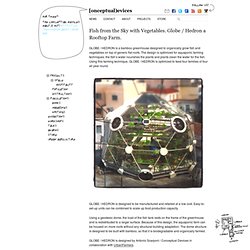 GLOBE / HEDRON is a bamboo greenhouse designed to organically grow fish and vegetables on top of generic flat roofs. The design is optimized for aquaponic farming techniques: the fish's water nourishes the plants and plants clean the water for the fish. Using this farming technique, GLOBE / HEDRON is optimized to feed four families of four all year round. GLOBE / HEDRON is designed to be manufactured and retailed at a low cost.
Fish from the Sky with Vegetables. Globe / Hedron a Rooftop Farm. — Conceptual Devices
Maral Pourkazemi | Revolution Online Blog
Que un yuppie en el Metro de París pueda leer ¿Qué es la filosofía? de Deleuze y Guattari mientras se traslada a hacer negocios a la Bolsa de Comercio ya no debería sorprender a nadie. Más difícil sería que un oficial israelí en un tanque en la Franja de Gaza se pusiera a leer Mil mesetas. Capitalismo y esquizofrenia antes de disparar sobre niños terroristas (o terroristas-niños). Sin embargo, esto también ya ha ocurrido.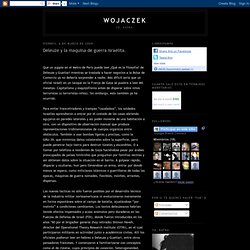 Deleuze y la maquina de guerra israelita.
SciFund Projects
Mil Maquinas - Maquinas de Guerra (cap4)
la cumbre del G8 en Génova. Allí finalizó con el arrestode gran parte de los y las activistas de la Caravana porparte de la policía italiana. Algunos años después, en el otoño de 2005, frente aun tribunal provincial en la ciudad de Lambach al nortede Austria, se repitió esta proyección y repliegue de lamáquina de guerra; pero en esta ocasión sin el brillo delas protestas internacionales contra el G8. Los y las acti-vistas de la Caravana fueron acusadas de haber realiza-do una acción sin previo aviso en una escuela deLambach (se trataba, en concreto, de una intervención de tea-tro de agitación con la biometría por argumento), en elmarco del Festival de las Regiones 2003, cuyo tema era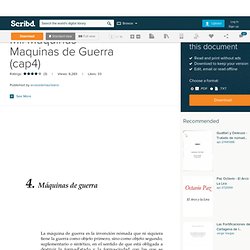 La diferencia entre máquinas nómadas y estatales se la debemos a la filosofía contemporánea, específicamente a Deleuze-Guattari, este "autor" expone en su Tratado de nomadología (Deleuze y Guattari, 1997) otra versión de la Máquina de Guerra. Pensamos que tal versión le fue sugerida al "teórico" por su lectura de "La construcción de la muralla China" de Franz Kafka. En este relato un funcionario menor, al parecer un albañil, narra los métodos que siguió el Celeste Imperio en la construcción de esa muralla inverosímil. Durante la faena, los obreros observaban que las tribus nómadas cruzaban frente a las obras para luego perderse en las estepas.
Máquinas nómadas y máquinas estatales « ARTE NÓMADA
Smooth Space in the Striated Empire
This project was developed by Jungwook Lee as Design Thesis at Cornell University. The study is briefly summarized through three main topics. The first topic was to analyze the sense of smooth and striated space from Deleuze and Guattari's philosophy book; 'A Thousand Plateaus with Architecture Point of View'.
DD 05 R&SIE: Corrupted Biotopes (9788995359877): Francois Roche
Demain soir (13oct à18h) à l'école d'architecture de la Villette aura lieue une conférence de François Roche dans le cadre "Architecture et inconscient technologique" ayant pour thème "Automate Bachelors in Dystopia Zone". Ca promet d'être passionnant alors n'hésitez pas à venir !!!Ecole de la Villetteamphi 11144 avenue de flandres dans le XIXenb: la conférence ne dure qu'une demi heure car appartenant au principe de ces trois jours remplis de conférences (en gros ne pas hésitez à venir avant !)
# Conférence de François Roche à l'école de la Villette
Isobiot®ope « new-territories
The Isobiot®ope installation unfolds a scenario about a mineral element which is able to indicate the degree of UV crossing the stratosphere through its after glowing appearance (pigment of Isobiotrope exited by the UV ray) and by this way revealing the degree of Ozone degradation at the origin of some human pathologies. The natural stone is on the middle of the stripe in the installation. It is a radioactive natural element at the level of 0.88 microSievert / hours. A Geiger counter is set to control it. The natural radioactivity of the "citta di Venezia" is 0.16 microSV (in the installation the Alpha rays don't across more than 15 centimeters and are filtered by human skin barrier).
ParaCloud at Work: "he shot me down",by Francois Roche - R&Sie(n) Architects, Paris | ParaClouding
A Living House by R&Sie Architects
Pictures « . . . . . an architecture "des humeurs"
R&Sie(N): Fiction Scripts (9787543461635): Francois Roche
Bioreboot: The Architecture of R&sie{n} (9781568988696): Giovanni Corbellini
Michel Foucault
Michel Foucault, Of Other Spaces (1967), Heterotopias
Glosario: Heterotopía | Atributos Urbanos
Michel Foucault por sí mismo (2003) on Vimeo
Swarm intelligence
La tiranía de las pequeñas decisiones
The Acupuncture Tower Redefines the Kaohsiung Port in Taiwan
www.arqa.com/index.php/esc/colaboraciones/curitiba-hacia-la-ciudad-ecologica.html
Mediating modernism: architectural ... - Andrew Higgott - Google Libros
El territorio de Málaga desde la perspectiva de la ciudad expandida y las ecologías en red
- EUROPEANESPAÑA -
Europan 11 Local Microgrowth (Honourable Mention) | accésit
LES-HALLES
INCHON-SONG–DO-NEW-TOWN-
WEST-KOWLOON-CULTURAL-DISTRICT
Grammars for Generative Art (Part II) | Syntopia
LOGROÑO
ALMERE-MASTERPLAN
Michael Hansmeyer: algoritmos libres y arquitectura | Arquitectura, Autonomía, Reciclaje, Código Libre
Michael Hansmeyer - Computational Architecture
Crowd-sourced realtime radiation monitoring in Japan
Denkimeter: Un juego para fomentar el ahorro energético
Home | Simple Energy
Neighbourhood Scoreboards
Energy Thieves | Design Interactions at the RCA
ELLIOTT P MONTGOMERY : THE ENERGY PILOTS
ELLIOTT P MONTGOMERY : ELECTRICITY SOURCE METER
Plataformas Tecnológicas
Responsive Architecture
Opower
Wind Turbine Towers Win Metropolis Next Generation Prize! wind-it_l_hd – Inhabitat - Green Design Will Save the World
Electronic6
Art & Energy
Green cloud
The Internet of Things Real-Time Web Service and Applications - Pachube
Open Energy
Responsive Architecture
f32 : francastillo
Bio-Fuel Growing Eco Pods Rejuvenate Stalled Boston Project
Michael Hansmeyer - Computational Architecture: L-Systems
Arquitectura genetica y dinamica
Arctic Food Network / Lateral Office
Algae-Powered Skyscraper Filters Air in Polluted Cities