Theories-apprentissage
Modèles d'enseignement-apprentissage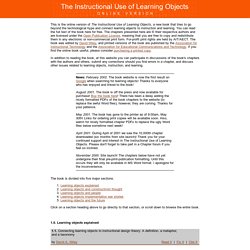 This is the online version of The Instructional Use of Learning Objects , a new book that tries to go beyond the technological hype and connect learning objects to instruction and learning. You can read the full text of the book here for free.
the social/situational orientation to learning @ the informal education homepage
Social learning theory 'posits that people learn from observing other people.
ac.els-cdn.com/S2210656112000049/1-s2.0-S2210656112000049-main.pdf?_tid=c898306a-236b-11e2-93ab-00000aab0f6c&acdnat=1351695840_01c48cf62c3b066132c18dba0bf11436
ac.els-cdn.com/S2210656112000050/1-s2.0-S2210656112000050-main.pdf?_tid=ccdd2ab8-236b-11e2-93ab-00000aab0f6c&acdnat=1351695848_aca120be83db751835c5d2c20ce43190
Leaky Grammar | Second Language Acquisition, Language Learning
Edward Deci Publications
Two Mindsets: Fixed (Intelligence is static) ;... |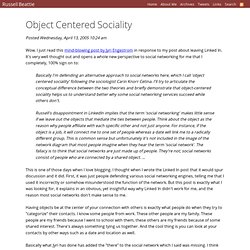 Wow. I just read this mind-blowing post by Jyri Engestrom in response to my post about leaving Linked In. It's very well thought out and opens a whole new perspective to social networking for me that I completely, 100% sign on to: Basically I'm defending an alternative approach to social networks here, which I call 'object centered sociality' following the sociologist Carin Knorr Cetina. I'll try to articulate the conceptual difference between the two theories and briefly demonstrate that object-centered sociality helps us to understand better why some social networking services succeed while others don't.
Object Centered Sociality
On the important differences between literacies, skills and competencies. | dougbelshaw.com/blog | Pédagogie et web 2.0
Summary: Bandura's Social Learning Theory posits that people learn from one another, via observation, imitation, and modeling. The theory has often been called a bridge between behaviorist and cognitive learning theories because it encompasses attention, memory, and motivation. Originator: Albert Bandura