Photo
Dermandar. Dermandar Panorama - créer des panorama en quelques secondes - AppleMAG.fr. Si vous aimez prendre des photos avec votre iPhone et que vous visitez souvent des lieux que vous souhaiteriez immortaliser, l'application Dermandar Panorama va vous permettre de créer des panoramas.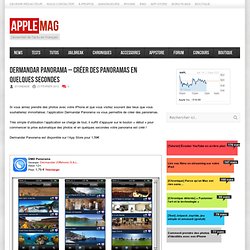 Très simple d'utilisation l'application se charge de tout, il suffit d'appuyer sur le bouton « début » pour commencer la prise automatique des photos et en quelques secondes votre panorama est créé ! Dermandar Panorama est disponible sur l'App Store pour 1,59€ Fonctionnalités: - Prise de vue automatique - Résultat quasi instantané - Gestion du temps d'exposition - Visualisation interactive en 3D, possibilité de zoomer - Ouverture possible jusqu'à 360 degrés - Gestion d'un album photo - Accès à l'album photo en ligne et aux milliers de panoramas publics - Accès au panoramas créés à proximité (utilisation du GPS) - Pas besoin de s'enregistrer sauf si on veut créer un album en ligne - Enregistrement gratuit sur dermandar.com pour créer un album photo en ligne.
Free Online 360 Panoramic Photos Software, Fullscreen HTML5 and Flash Viewer. Free online photo editor - Aviary.com. FotoFlexer. Flickr. Fotolia - Banque d'Images - Photos libres de droits - Images libres de droits. YoHDR! | Easily Create Great HDR Photos Online. Photos. Image Mosaic Generator. This exclusive free web application is brand new. Unforunately it is only available from December 2008 to February 2009, so make sure you tell your friends about it now! :) Image Mosaic Generator. Free Watermark Tool - Generate watermarks for your images quickly and easily. Photoshop. The first thing that clicks our mind when we talk about image editing and photo manipulation is Adobe Photoshop.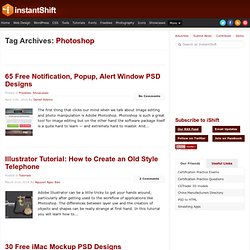 Photoshop is such a great tool for image editing but on the other hand the software package itself is a quite hard to learn — and extremely hard to master. And... Adobe Illustrator can be a little tricky to get your hands around, particularly after getting used to the workflow of applications like Photoshop. The differences between layer use and the creation of objects and shapes can be really strange at first hand. In this tutorial you will learn how to... Start Morphing. Click the faces you want to morph this face with.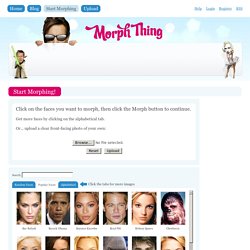 To make a baby image, select the ethnicity of the parents: Parent 1: Parent 2: GigaPan. VirusPhoto - Forum photo numérique.
---