News
The Wisdom of Clouds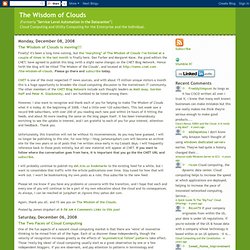 I got to spend a few hours at Sys-Con's Cloud Computing Expo yesterday, and I have to say it was most certainly an intellectually stimulating day. Not only was just about every US cloud startup represented in one way or another, but included were an unusual conference session, and a meetup of fans of CloudCamp. While listening in on a session, I overheard one participant ask how the cloud would scale their application if they couldn't replicate it. This triggered a strong response in me, as I really feel for those that confuse autonomic infrastructures with magic applied to scaling unscalable applications. Let me be clear, the cloud can't scale your application (much, at least) if you didn't design it to be scaled. Period.
All Posts
MarketPlace Easy Does It! B-to-B Firms Prosper by Improving Customer Ease of Doing Business [Jan 30] This webinar will reveal new research about loyalty drivers, CX obstacles and the role of journey mapping in customer insight.
News
B2B Marketing, B2B Social Media, Content Marketing, and all things B2B.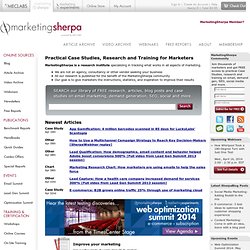 MarketingSherpa is a research institute specializing in tracking what works in all aspects of marketing. Thank you for signing up for MarketingSherpa content. Improve your marketing -- and save money on every purchaseSign up today for a MarketingSherpa Membership. Benefits include: Get every Special Report for FREE (usually $97 each) Get every 30-Minute Marketer for FREE (usually $47 each) Save 20% on every purchase Ask the Librarian for help in locating marketing research Enjoy other member-only perks Get more info and sign up for a MarketingSherpa Membership here.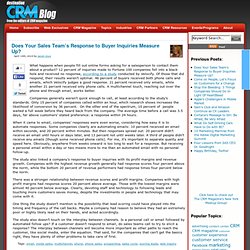 CRM Magazine Blog
From sleek, sophisticated wristbands to dorky eyewear (I'm looking at you, Google Glass), it appears that wearables are hear to stay. Wearable computing devices took center stage at the Consumer Electronics Show in Las Vegas this week, but analysts agree that the trend will be making a major impact not only on consumers, but on businesses as well. According to a Forrester report released earlier this week, though the wearables market is suffering from an undeniable hype bubble, wearables will "become critical assets for enterprises to differentiate themselves with in the age of the customer," and will become commonplace within the workplace, according to analyst and report author J.P. Gownder.
The Big Fat Marketing Blog