News
The Wisdom of Clouds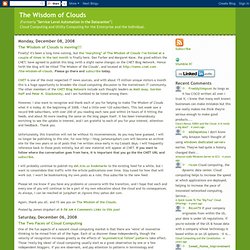 I got to spend a few hours at Sys-Con's Cloud Computing Expo yesterday, and I have to say it was most certainly an intellectually stimulating day. Not only was just about every US cloud startup represented in one way or another, but included were an unusual conference session, and a meetup of fans of CloudCamp. While listening in on a session, I overheard one participant ask how the cloud would scale their application if they couldn't replicate it. This triggered a strong response in me, as I really feel for those that confuse autonomic infrastructures with magic applied to scaling unscalable applications. Let me be clear, the cloud can't scale your application (much, at least) if you didn't design it to be scaled. Period.
All Posts
News
B2B Marketing, B2B Social Media, Content Marketing, and all things B2B.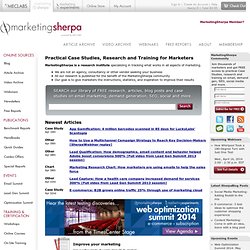 MarketingSherpa is a research institute specializing in tracking what works in all aspects of marketing. Thank you for signing up for MarketingSherpa content. Improve your marketing -- and save money on every purchaseSign up today for a MarketingSherpa Membership. Benefits include: Get every Special Report for FREE (usually $97 each) Get every 30-Minute Marketer for FREE (usually $47 each) Save 20% on every purchase Ask the Librarian for help in locating marketing research Enjoy other member-only perks Get more info and sign up for a MarketingSherpa Membership here.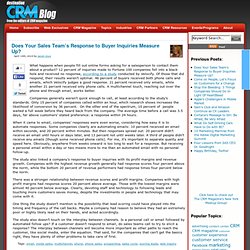 CRM Magazine Blog
Believed to be among the biggest computer bugs to ever strike the Internet, the HeartBleed Internet bug is a doozy. What makes the situation even more dire, however, is that consumers can do little to protect themselves. HeartBleed has the Internet community reeling because it's a direct hit to OpenSSL, which runs on 66 percent of the Web, according to Mashable's Christina Warren. OpenSSL is free and versatile, so a lot of companies rely on it to enable the functionality of Secure Sockets Layer and Transport Layer Security (SSL/TLS)–a set of protocols for handling security, Warren explains.
The Big Fat Marketing Blog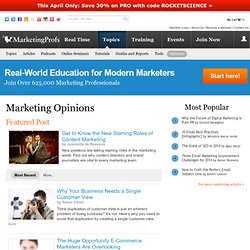 Featured Post by Jeannette de Beauvoir New positions are taking starring roles in the marketing world. Find out why content directors and brand journalists are vital to every marketing team. Social Pros All-Stars Trading Cards [Slideshow] by Jay Baer Want to learn how to become a heavy hitter in social media?