Food Blogs
Free Online Recipes | Free Recipes. Smitten kitchen. Recipe Index. Easy Orange Yogurt Loaf CakeMost Popular Recipes100% Whole Grain Moist and Delicious Bran Muffins (made without cereal)All Natural Homemade Barbecue SauceAll Natural Soft and Cakey Honey Peanut Butter Cookies (no refined sugar)Arugula PestoBeyond Easy Beer BreadChocolate Biscotti for BeginnersEasy Emergency Chocolate Loaf CakeEasy Orange Yogurt Loaf CakeFarmhouse White: An Easy Basic White Sandwich Bread RecipeHomemade Lowfat Buttermilk Ranch DressingHomemade Pita Bread in about an HourHot Swiss Chard Artichoke DipJamie Oliver's Traditional Cornish Pasties with Beef, Onion, Potatoes, and CarrotsKohlrabi Purée (Wondering what to do with kohlrabi?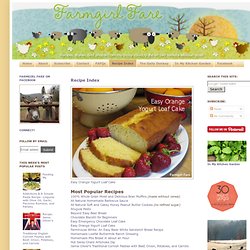 Try this!) No Sugar, Salsa-Like, Super Simple Green Tomato RelishOatmeal Toasting BreadOrange Yogurt Loaf CakeReally Easy Low Sugar Pear ButterSavory Tomato Basil Pesto Pie with a Foolproof Biscuit CrustSavory Feta Cheese and Scallion Scones (made with cream cheese,no butter)Spicy Pumpkin Pecan (or Walnut) Raisin Muffins. I am baker. Simply Recipes Food and Cooking Blog. All PW Recipes. Recipes. Finally I get to eat chicken salad sandwiches and drink serious glasses of milk again in the back yard while reading books!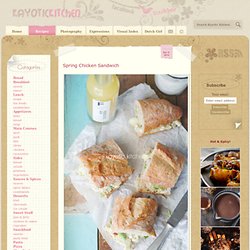 My favourite pastime. Crazy as it may sound, I built this sandwich around a bottle of mango vinegar; my latest culinary addiction. It turned out every bit as spring-like, fresh and wonderful as I hoped it would be. This sandwich is so chockfull of flavour, texture and surprising twists… great to eat down to the very last bite. Noble Pig. Savory Sweet Life-Easy Recipes for Everyday Cooking. What's Cookin, Chicago?
---