Blanket
Petals to Picots: Quick and Easy Crocheted Blanket Edging Patterns. You don't need to have a lot of money, time, or even crochet experience to create a special blanket to give as a gift or to donate to a child in need.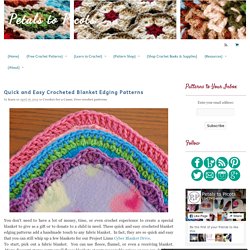 These quick and easy crocheted blanket edging patterns add a handmade touch to any fabric blanket. In fact, they are so quick and easy that you can still whip up a few blankets for our Project Linus Cyber Blanket Drive. To start, pick out a fabric blanket. You can use fleece, flannel, or even a receiving blanket. Many discount stores carry small fleece blankets at very reasonable prices. SNOWFALL 12" SQUARE JANUARY 2011. Snow Fall Pattern Designed by: Aurora Suominen Copyright © 2010 Ch4 and join to form a ring.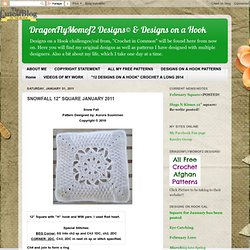 Butterfly Garden - YarnCrazy Crochet World.
Shell Stitch | Free Vintage Crochet Patterns. Printer-friendly version Send by email PDF version Make a shell stitch: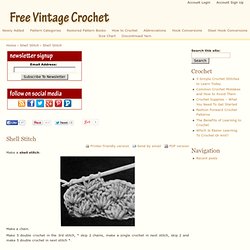 Puff Stitch Heart Afghan Square Crochet Pattern. This pattern courtesy of Crochet 'N' More Click below to learn more about CNM: Copyright, February 11, 2012 Tisa Enterprises, All Rights Reserved To print a new copy visit: The following pattern is my original design.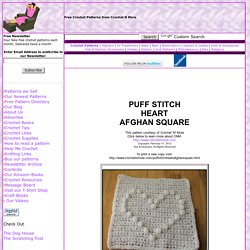 Starburst Throw. Vintage Crochet Pattern Series: Week 1 "…model and tool, craft of culture, how we go on."Axe Handles Gary Snyder Crafting items by hand is one of the oldest and most revered traditions we know.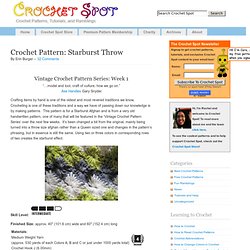 Crocheting is one of these traditions and a way we have of passing down our knowledge is by making patterns. Birdlebee's Granny Ripple pattern by Birdlebee. 16th August 2010: This is a variation of the granny square technique (but not in a square) and a ripple.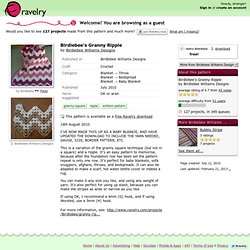 It's an easy pattern to memorise, because after the foundation row has been set the pattern repeat is only one row. Granny Throw pattern by Lion Brand Yarn. SKILL LEVEL: Easy (Level 2) Tweed Stripes® (Article #753) 3 colors, 3 balls each (9 balls total) Crochet Hook - Size K-10.5 (6.5 mm) Gauge: One Square = 12 x12 in. (30.5 x 30.5 cm)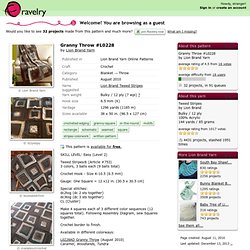 AllFreeCrochetAfghanPatterns.com - Free Crochet Afghan Patterns, Projects, How-To Crochet Afghans, Videos and More! Easy Afghan Patterns, Easy Blanket Patterns. Free Crochet Pattern colorfulwheels Colorful Wheels Afghan. ~ 4 hearts square (pattern added) ~ I wanted to try and come up with a heart square but I couldn't get it to work the way I wanted.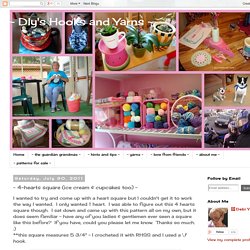 I only wanted 1 heart. I was able to figure out this 4 hearts square though. I sat down and came up with this pattern all on my own, but it does seem familiar - have any of you ladies & gentlemen ever seen a square like this before? If you have, could you please let me know. Thanks so much. :)**this square measures 5 3/4" - I crocheted it with RHSS and I used a 'J' hook. Wagon Wheel Square Pattern.
Size I hooksmall amounts of 3 colors worsted weight yarn.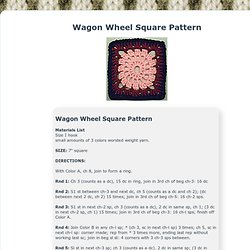 SIZE: 7" square With Color A, ch 8, join to form a ring. Rnd 1: Ch 3 (counts as a dc), 15 dc in ring, join in 3rd ch of beg ch-3: 16 dc Rnd 2: S1 st between ch-3 and next dc, ch 5 (counts as a dc and ch 2); (dc between next 2 dc, ch 2) 15 times; join in 3rd ch of beg ch-5: 16 ch-2 sps. Www.kaleidesigns.com/crochet/patterns/archive/squa004.html. You are at: Friendship Ring Square (©2000, designed by Terri Kroupa) Finished Size: 8" square.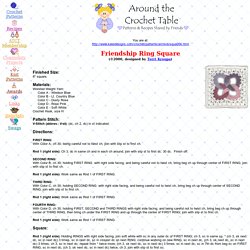 A Granny A Day: 6" squares. Pattern: Square 78 from Leisure Arts 99 Granny Squares to Crochet Hook used: J Finished size: 6" Colors Used: Vanna's Choice Baby in Goldfish. Michael's Loops and Threads Impeccable Worsted Aqua. Hobby Lobby's I love this yarn buttercup.
---