HTML and CSS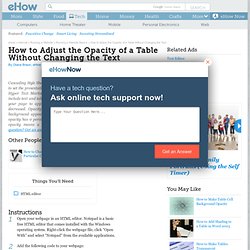 How to Change Opacity of Letters in Microsoft Word Microsoft Word is a word processing application that can create and edit advanced features such as font sizes, font colors and font... How to Make Tables Transparent When you add a background image or color to a table on your Web page, its background is opaque by default. You... How to Make Table Cell Background Opacity You can access the background property of a table's cell by using Cascading Style Sheets (CSS).
How to Adjust the Opacity of a Table Without Changing the Text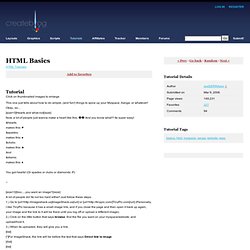 This one just tells about how to do simple, (and fun!) things to spice up your Myspace, Xanga, or whatever! Okay...so... [size=3]Hearts and what-not[/size] Now, a lot of people just wanna make a heart like this: And you know what?! Its super easy! ♥
HTML Basics - HTML Tutorials
Using Link Anchors on your Site - HTML Tutorials
Tutorial Click on thumbnailed images to enlarge Link anchors are very cool and useful for long websites. An anchor is a link that when clicked simply moves you to a different portion of the page.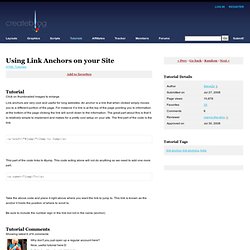 Colour Swatches
W ith CSS, it is possible to work with layers: pieces of HTML that are placed on top of the regular page with pixel precision. T he advantages of this are obvious - but once again Netscape has very limited support of CSS layers - and to top it off: the limited support it offers is quite often executed with failures. S o the real challenge when working with layers is to make them work on Netscape browsers as well. F irst look at this example: S econd look at the code:
CSS Layers - CSS tutorial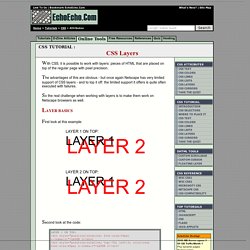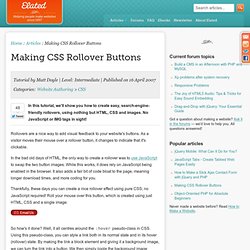 Tutorial by Matt Doyle | Level: Intermediate | Published on 16 April 2007 Categories: In this tutorial, we'll show you how to create easy, search-engine-friendly rollovers, using nothing but HTML, CSS and images. No JavaScript or IMG tags in sight! Rollovers are a nice way to add visual feedback to your website's buttons.
Making CSS Rollover Buttons