Makeup & Hair
Get flash to fully experience Pearltrees
After many requests, I finally made a tutorial on how to tie a simple head scarf. It's really, really easy. I did this without looking in the mirror, so that should tell you how easy it is. Let's get started! Start with a large, square scarf. I like my vintage silk scarves because they're soft and not bulky.
Lately, it seems, we've been inundated with red carpet high buns— Charlize Theron loves 'em, Rachel Bilson went high and tight recently , and SJP has sported the high bun for years. Mostly I shy away from the style because I think they look a bit too ballerina and also just too sweet on me—until now. I happened upon this high bun, above, and instantly fell in love. Maybe it's the French feeling of the style or the casual, just-swept-up look, but how cool would it be paired with, well, anything in your closet? Adore.
I wore a more relaxed version of this hair style in an outfit post in June of 2009 but for reasons unbeknownst to me, I never did a tutorial for it. Recently though, a few of my lovely readers have asked for it ...so here it is. Enjoy * * * it would be so pretty with flowers pinned in * * * *
all photos: Kristin Ess + thebeautydepartment.com post designed by kristin ess Lots of emails this week asking for a tutorial on Lauren's temporary bright colors. Here I've replicated the process for you in 7 steps on an extension.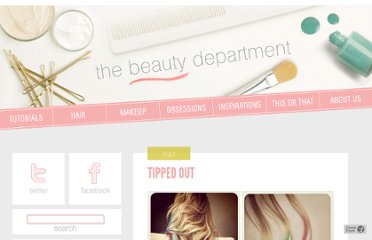 : Maybe the humidity is messing with our minds, or maybe we need to cut down on those midday margaritas , but we've been having a really hard time drawing our eyeliner on straight these past few days. Time for a shortcut! We thought we'd give you guys a refresher on this genius makeup cheat, just in case you're having the same makeup malfunction. This story was originally published on November 5, 2011. There's no question that mastering the art of eyeliner takes skill and dedication, but it also takes a hell of a lot of patience!
When it comes to doing hair, I am spectacularly incompetent. In fact, during the makeover portion of middle school slumber parties my friends would make me sit alone in a separate room so I couldn't "mess anything up." (It sounds cruel but it was actually a wise decision.) As a result I've spent much of my adult life alternating between two signature styles: the "sleep on it and hope it looks good in the morning" and the "rushed ponytail." Lately I've been wanting to switch things up, so I scoured the internet for some cute, easy hairstyles (requirements: 10 minutes or less, slightly messy, no french braids). Here are 8 of them, and please feel free to share your own ideas/tips/links in the comments!
You Totally Got This: 4 Easy Braids For Rookies