Cake
There is a hilarious scene in an episode of Sex and the City where Miranda makes herself a homemade chocolate cake. She starts off by eating one thin sliver of the cake and then walks away. The camera frame doesn't leave the kitchen the entire scene. You see her walk back into the kitchen just seconds later and help herself to another minuscule piece of the sinful treat.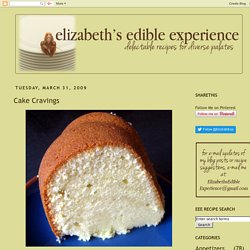 Icelandic Christmas Cake
Your Cup of Cake Lizzy Early Get New Recipes Delivered! Tiramisu Cupcakes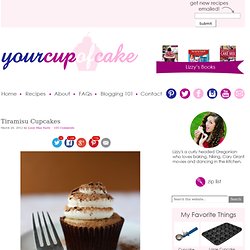 Tiramisu Cupcakes
Crock-Pot Ladies Crock-Pot Cheesecake
Ingredients 3 8oz Packages of Philadelphia Cream Cheese 3 Eggs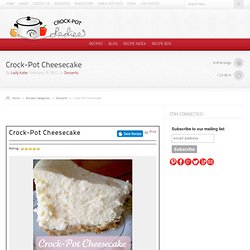 Lamingtons
HERITAGE RHUBARB CAKE | Other Snack Recipes | Finnjin
Baba's Lady Baltimore Cake…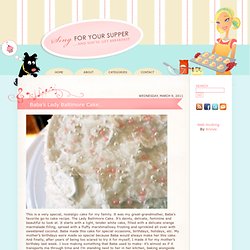 This is a very special, nostalgic cake for my family. It was my great-grandmother, Baba's favorite go-to cake recipe. The Lady Baltimore Cake. It's dainty, delicate, feminine and beautiful to look at.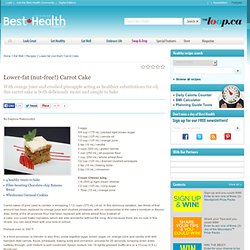 Lower-fat (nut-free!) Carrot Cake | Recipes | Eat Well
With orange juice and crushed pineapple acting as healthier substitutions for oil, this carrot cake is both deliciously moist and simple to bake By Daphna Rabinovitch Ingredients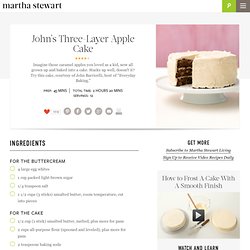 Imagine those caramel apples you loved as a kid, now all grown up and baked into a cake. Stacks up well, doesn't it? Try this cake, courtesy of John Barricelli, host of "Everyday Baking." Everyday Food, September 2008 Prep Time 45 minutes Total Time 2 hours 20 minutes, plus chilling Yield Serves 12
John's Three-Layer Apple Cake
Preheat oven to 350 degrees. Wrap exterior of a 9-inch springform pan (including base) in a double layer of foil; set aside. Stir together cracker crumbs, melted butter, and 2 tablespoons sugar in a medium bowl. Press crumb mixture firmly onto bottom of pan. Bake until set, about 10 minutes.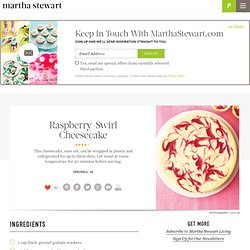 Raspberry-Swirl Cheesecake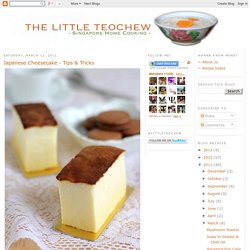 Japanese Cheesecake - Tips & Tricks
Cotton Soft Japanese Cheesecake and French Chocolate Macarons for a rainy afternoon. I wish I was one of my kids. Just sayin'. We all deserve something nice in the day to perk us up. For me, it's definitely a good cake or pastry, accompanied by a cuppa. Like this Japanese Cheesecake. :) Some of you may remember that I made it recently for my friends who came over for tea .
Prepare coconut: Preheat oven to 350°F with racks in upper and lower thirds. Pierce softest eye of each coconut with a small screwdriver and collect liquid in 2 separate bowls to sample. If either tastes rancid, discard that coconut and liquid and Start over with another. Strain liquid from 2 coconuts through a dampened-paper-towel-lined sieve into a 1-cup measure and set coconuts aside. (You should have about 3/4 cup liquid.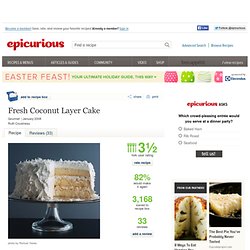 Fresh Coconut Layer Cake Recipe at Epicurious
This time I decided to make it with those mini fruit flavored marshmallows. I had to sort them by colour first. I figured they would add a little bit of flavor to the fondant so I wouldn't have to add much flavoring oil. I use gel colours to dye my fondant but regular food colouring will work too. You won't be able to get really dark colours without making your fondant sticky, but for lighter colours you can just even it out with more icing sugar. I also had lemon oil and coconut flavoring on hand.. oh la la the value brand (which still works fine).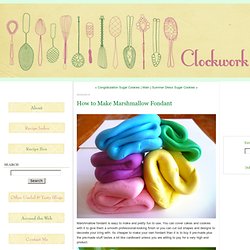 Olive Oil Zucchini Cake
Ingredients 1 box Classic Yellow cake mix 3 eggs 1 cup water 1/4 cup olive oil
i 362 Votes Moist strawberry cake layered with a rich lemonade cream filling. Introducing summer——on a plate!
Strawberry Lemonade Layer Cake!! « eASYbAKED
Time to put your aprons on again and roll up your sleeves. We have more fabulous cake decorating tips and tricks for you. This time from New Hampshire baking extraordinaire, Wild Orchid Baking Company .
Make Your Own Cake Flowers