Termino 1
Terminology. Dictionaries (Strange & Unusual) Faux amis (1 000 faux-amis Termisti) Hat man sich für die Buchung eines DSL Anschlusses der Deutschen Telekom entschieden, ist fast auch sicher, dass er geschaltet werden kann.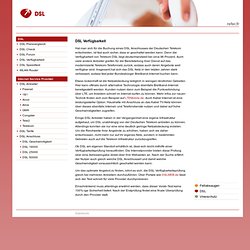 Denn die Verfügbarkeit von Telekom DSL liegt deutschlandweit bei circa 96 Prozent. Auch viele andere Anbieter greifen für die Bereitstellung ihrer Dienst auf das modernisierte Telekom-Telefonnetz zurück, sodass auch deren Angebote weit verfügbar sind. Insgesamt hat sich das DSL Netz in den letzten Jahren stark verbessert, sodass fast jeder Bundesbürger Breitband-Internet buchen kann. Etwas lückenhaft ist die Netzabdeckung lediglich in wenigen ländlichen Gebieten.
Hier kann oftmals durch alternative Technologie ebenfalls Breitband-Internet bereitgestellt werden. Redon - Dictionnaires et encyclopédies de France. Ncordancier anglais BLC KWIC Concordancer (Ver. 06-22-01) Merriam-Webster's Business Correspondence. Dictionaries & Encyclopedias On-Line. Nordermbank - Multilingual Terminology Termbank. Menu Trésor de la langue française. Microglossaires (Liste des) - Travaux Termisti faits par des étu. Dictionary. Dictionnaire Capital. Build's Bank of English Page. Dictionnaires anglais spécialisés. OneLook Dictionary Search. Dictionnaire des citations - dicocitations.com. InvestorWords Glossary. Hachette Encyclo. Utilisation des données personnelles Envoi d'e-mailings personnalisés SFR peut utiliser vos informations personnelles pour vous proposer des offres adaptées, directement sur le site SFR.fr ou lors de communications par e-mails.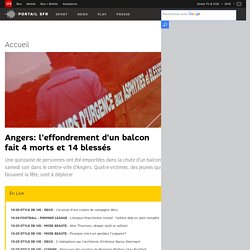 Dans ce cadre, au clic sur un des liens de ces e-mails, SFR vous permet d'être reconnu sur l'intégralité du site SFR.fr, avec un accès à des offres spécifiques. Gestion des cookies. Bureau de la traduction - Publications. PetroDico. Groupe Total Stations-service Se rendre en station Trouver une station Calculer un itinéraire Trafic en temps réel.
Build Home Page. Hanse-Blampain (Dict. des difficultés) Language Hub - Resource Materials. How to speak like an aussie! Bibliographie Internet - Comment citer des sources sur Internet. Bernard Pivot (Dicos d'or) Biotech Knowledge Center. American·British - British·American Dictionary. Britannica (Trial) ATILF (CNRS) - Analyse et traitement informatique de la langue f. Abbreviation - AECMA Glossary. Abbreviations - Glossary-tech. Bruxellles - Déclaration de -- sur la terminologie.
---