Controversial Topics
What same-sex "marriage" has done to Massachusetts - 2012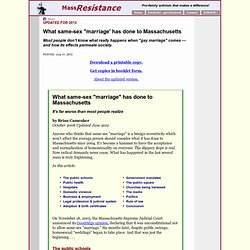 by Brian Camenker October 2008 Updated June 2012 Anyone who thinks that same-sex "marriage" is a benign eccentricity which won't affect the average person should consider what it has done to Massachusetts since 2004. It's become a hammer to force the acceptance and normalization of homosexuality on everyone. The slippery slope is real.
TalkOrigins Archive: Exploring the Creation/Evolution Controversy
Talk.origins is a Usenet newsgroup devoted to the discussion and debate of biological and physical origins. Most discussions in the newsgroup center on the creation/evolution controversy, but other topics of discussion include the origin of life, geology, biology, catastrophism, cosmology and theology. The TalkOrigins Archive is a collection of articles and essays, most of which have appeared in talk.origins at one time or another. The primary reason for this archive's existence is to provide mainstream scientific responses to the many frequently asked questions (FAQs) that appear in the talk.origins newsgroup and the frequently rebutted assertions of those advocating intelligent design or other creationist pseudosciences.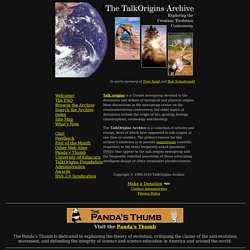 A Scientific Defense of a Creationist Position on Evolution
Evolution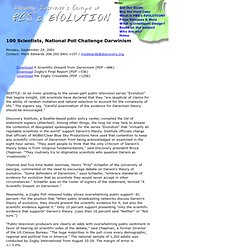 A Critique of PBS's Evolution
100 Scientists, National Poll Challenge Darwinism Monday, September 24, 2001 Contact: Mark Edwards 206.292.0401 x107 / medwards@discovery.org SEATTLE--In an ironic greeting to the seven-part public television series "Evolution" that begins tonight, 100 scientists have declared that they "are skeptical of claims for the ability of random mutation and natural selection to account for the complexity of life." The signers say, "Careful examination of the evidence for Darwinian theory should be encouraged."
by Robert Locke I AM NOT A CREATIONIST, and must confess that until recently, I treated people who questioned evolution with polite dismissal. But there has recently emerged a major trend in biology that has been suppressed in the mainstream media: evolution is in trouble. More importantly, this has absolutely nothing to do with religion but is due to the fact that the ongoing growth of biological knowledge keeps producing facts that contradict rather than confirm evolution. These two books—Michael Denton's Evolution: A Theory in Crisis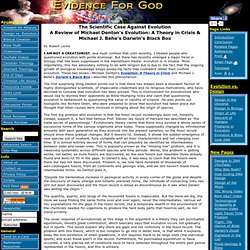 The Scientific Case Against Evolution
In the 1950's, 60's and 70's, being an unwed mother carried a significant stigma in America. It's now called the "baby scoop" era and during this time young women -- usually in their teens -- were either hidden at home, sent to live with distant relatives or quietly dispatched to maternity homes to give birth. Estimates are as many as 1.5 million young mothers who say they were forced -- some just minutes after delivery -- to hand over their babies for adoption during this period. It was a decision that they seldom made on their own.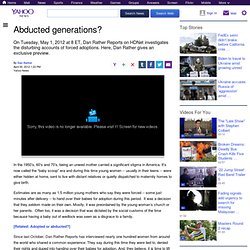 Abducted generations?
For years we've been amused by the ridiculous complaints and accusations of animal rights groups such as People for the Ethical Treatment of Animals, Friends of Animals, the Humane Society, and others. They have tried to encourage our young people to drink beer instead of milk, cried foul about casino patrons playing tick-tack-toe against chickens, vilified Burger King because their veggie burgers are cooked on the same grill with meat patties, and filed lawsuits against McDonalds for labeling French fries and hash browns as vegetarian items, because they are fried in vegetable oil that contains traces of beef essence. Hardly a week goes by that people with common sense don't get a chuckle from the antics of these supposedly well-meaning imbeciles. We ignore their inane babblings and smile at their suggestions concerning relocation of prairie dogs.
Animal Rights Facts = Animal Rights Exposed