Social media
6 Ways a Social Media Analyst Approaches Social Data. As a social media marketing analyst for Simply Measured, I have had the privilege to work with a ton of data from some of the largest brands in the world.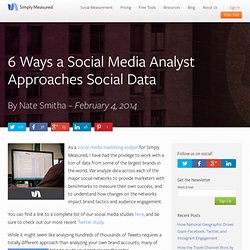 We analyze data across each of the major social networks to provide marketers with benchmarks to measure their own success, and to understand how changes on the networks impact brand tactics and audience engagement. You can find a link to a complete list of our social media studies here, and be sure to check out our most recent Twitter study. Simply Measured sur Twitter : "6 Ways to Approach Data Like An Analyst: Mmonwealth Games: Kiwi athletes get social media coaching. Don't expect any Kiwi athletes to become embroiled in social media scandals during the Commonwealth Games.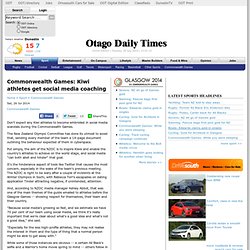 The New Zealand Olympic Committee has done its utmost to avoid that, sending every member of the team a 14-page document outlining the behaviour expected of them in cyberspace. Put simply, the aim of the NZOC is to inspire Kiwis and enable the country's athletes to achieve on the world stage, and social media "can both abet and hinder" that goal. Social Media for the CEO - An Evening with Eve Mayer Orsburn. Having looked at My First Tweet, which didn't have a link, or an @, or a #, and was written in third person, I couldn't help but notice how much things have changed since 2009, and how much better twitter users seem to understand 'the rules' of Twitter.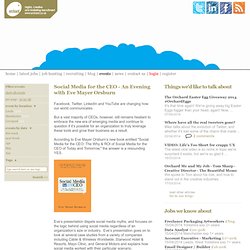 My feed is a traffic jam of useful snippets of information, articles, images, surveys, results, jokes. It's awash with incredible rich content and it's all useful, well kind of. Whilst most of the content has been carefully chosen by the poster the sheer noise level has deafened me. I can't read it all. Should you moderate your Facebook Page? | The UK Sports Network. Posted on22 September 2010.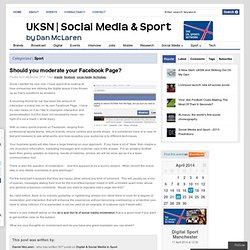 Tags: brands, facebook, social media, technology Since I started my new role, I have spent time looking at how companies are utilising the digital space it has thrown up as many questions as answers. A recurring theme for me has been the amount of interaction a brand has on its own Facebook Page. I have my own views on it as I like to champion interaction and personalisation but this does not necessarily mean I am right (it's not a black + white topic). Search and the social graph. Groundswell: How People With Social Technologies Are Changing Ev. Digital Disruption is on everyone's mind.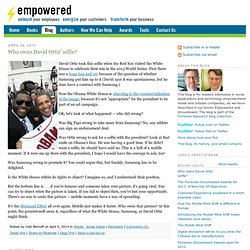 Netflix is replacing people's cable subscriptions. Simple apps like OpenTable and LoseIt! Are displacing businesses like Zagat's and Weight Watchers. Social Media | Internet Marketing Blog. How do some Facebook Pages still reach 82% of their fans?
New research from Wisemetrics shows that while on average many pages have seen a drop in organic reach, the top 1% of pages still reached 82% of their fans, more than five times the average. Marketers around the globe have been making dissatisfied rumblings about Facebook organic reach for a while now. The general consensus being: You've got to pay to play. That doesn't mean that we've got to pay Facebook though... Read more... Five reasons not to like Facebook's 'Like' button. If the numbers are any indication, publishers really like Facebook's new Like button.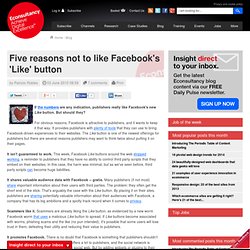 But should they? For obvious reasons, Facebook is attractive to publishers, and it wants to keep it that way. It provides publishers with plenty of tools that they can use to bring Facebook-driven experiences to their websites. The Like button is one of the newest offerings for publishers but there are several reasons publishers may want to think twice about putting it on their pages. Liverpool FC Statement. Liverpool FC today confirmed that Rafael Benitez is to leave the club by mutual consent.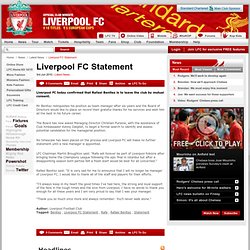 Mr Benitez relinquishes his position as team manager after six years and the Board of Directors would like to place on record their grateful thanks for his services and wish him all the best in his future career. The Board has now asked Managing Director Christian Purslow, with the assistance of Club Ambassador Kenny Dalglish, to begin a formal search to identify and assess potential candidates for the managerial position.
No timescale has been placed on the process and Liverpool FC will make no further statement until a new manager is appointed. LFC Chairman Martin Broughton said: "Rafa will forever be part of Liverpool folklore after bringing home the Champions League following the epic final in Istanbul but after a disappointing season both parties felt a fresh start would be best for all concerned.'' ROI: How to Measure Return on Investment in Social Media. Social media ROI: The best of British opinion | Blog | Econsulta. I recently wrote a post where I revisited a number of social media statistics, which attracted a lot of attention.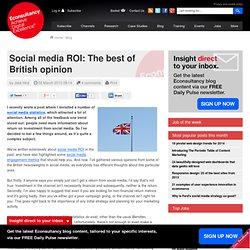 Among all of the feedback one trend stood out: people need more information about return on investment from social media. So I've decided to bat a few things around, as it's quite a complex subject. We've written extensively about social media ROI in the past, and have also highlighted some social media engagement metrics that should help you. Three possible ways to cash in on Twitter ads | Blog | Econsulta. Twitter ads are apparently almost here.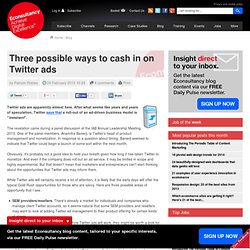 After what seems like years and years of speculation, Twitter says that a roll-out of an ad-driven business model is "imminent". The revelation came during a panel discussion at the IAB Annual Leadership Meeting 2010. Social Media Case Studies | The Parallax View. Some brand spanking new social media case studies added to the Social Media Case Study Hot List and a link to a blog with 40 Social Media Staff Guidelines! BBC and Blogs - Reportr.net How they are central to what the BBC does. Full report needs subscription at: iFirst, but article interesting. Urbane Apartments – using social media to reach 'millenials'. Nestle. Nestle PR Anti-Social Fail Whale « FaceBookCreep::Digital Market.
Nestle haven't had a good day today. They launched a Facebook page in an attempt to break into the social media sphere. They must be badly advised, because they assumed that a Facebook page was something you could control like a walled garden. Starbuck's Alexandra Wheeler: forget social strategy, think social philosophy. Home » Engagement, News, Social Media News, Videos Earlier this week we reported how Starbucks hit a new milestone in social media marketing, the first brand to surpass 10 million Facebook fans. A few weeks back I had the opportunity to interview Alexandra Wheeler, Starbucks' director of digital strategies, on the sidelines of the Social Media Influence conference.
She spoke of the profound importance to get buy-in from the top level of the organization (in the case of Starbucks, that comes from founder Howard Schultz) in order to implement not just a successful social media strategy, but a philosophy. There's a big difference. Why Coke Should Have Known Its "2 Girls 1 Cup" Campaign for Dr Pepper Was a Disaster Waiting to Happen | BNET Advertising Blog | BNET. Last Updated Jul 21, 2010 2:22 PM EDT The most telling part of Coca-Cola (KO)'s cancellation of its Dr Pepper Facebook promotion is that the company admitted it signed off on the text of the campaign without knowing what "2 girls one cup" actually means.
Coke is an old company and Facebook is a new trend: What happened here is the marketing equivalent of parents trying to show their teenage offspring that they're trendy too, with all the awkwardness that implies. Ben & Jerry's Drops Email Marketing In Favor of Social Media. UPDATE: It has come to my attention that this only applies to the UK Branch of Ben & Jerry's, not their US branch. My apologies for the confusion.
The articles I used for my initial research did not mention this fact, and so it was overlooked when this first ran. - Brian Whalley Ben & Jerry's Ice Cream of Vermont announced in an email to their subscribers last week that they will be discontinuing their regular email marketing campaigns, in favor of social media. Heineken Italy. Case Study - Champions League Match vs Classical. Rupert Murdoch's London Times goes behind a paywall in June | Bl. The Virtual Revolution - 3D Interactive Documentary Explor. Brandthroposophy: A Marketing, Social Media, and Research Blog. Digital Ethnography.
Aleks Krotoski : Academic, Media, UKTI & Personal — Academic Pos. What Social Media Users Want [STATS] Apophenia. Why Study the Web? Social Machines and the Virtual Revolution - Sport. 9,000 new fans EVERY day « MaineBlue.co.uk » Blog Archive » MCFC: Unsung Heroes – Chris Nield (City's Social Media Executive) Soccerex - Making Money From Social Media - Fullscreen. The Facebook & Twitter Premier League (updated) | The UK Sports Network. Manchester United launch official Facebook Page | The UK Sports Network.
Mad Libs make a comeback. To help with online form completion. | Dream Factory - 100 years of Old Trafford memories - Manchester. Communispace Verbatim. My First Forrester Report: Tapping The Entire Online Peer Influe. Social Media News and Web Tips – Mashable – The Social Media Gui. Research on Twitter and Microblogging. Research on Social Network Sites. 15 Fascinating Ways to Track Twitter Trends. Twitter Search.
---