Neutrality
US Law and ratio legis. Net neutrality is finally real, or at least will be in a few months.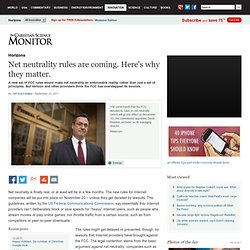 The new rules for Internet companies will be put into place on November 20 – unless they get derailed by lawsuits. The guidelines, written by the US Federal Communications Commission, say essentially this: Internet providers can't deliberately block or slow speeds for "heavy" Internet users, such as people who stream movies or play online games, nor throttle traffic from a certain source, such as from competitors or peer-to-peer downloads. Skip to next paragraph Recent posts. Cisco helping China abuse human rights! ISPs violating net neutrality rule? « Marvin Ammori & Blocage à l'anglaise. C'est la règle à Hollywood : tout se finit toujours bien.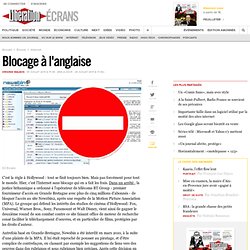 Mais pas forcément pour tout le monde. Hier, c'est l'Internet sans blocage qui en a fait les frais. Hollywood Forces BT to Block File Sharing Website. US film studios this week won a landmark victory in the UK high court which forced BT, the UK's largest internet service provider, to stop access to Newzbin2 a popular and illegal file-sharing website.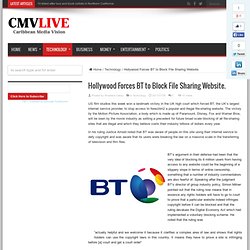 The victory by the Motion Picture Association, a body which is made up of Paramount, Disney, Fox and Warner Bros, will be seen by the movie industry as setting a precedent for future broad scale blocking of all file-sharing sites that are illegal and which they believe costs their industry billions of dollars every year. In his ruling Justice Arnold noted that BT was aware of people on this site using their internet service to defy copyright and was aware that its users were breaking the law on a massive scale in the transferring of television and film files. Ghettoization Internet w/ real NN. Technology used by Internet Service Providers (ISPs) and regulatory decisions have shaped the Internet in ways that create nuanced divisions in what people can access.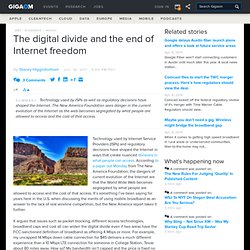 According to a paper out Monday from The New America Foundation, the dangers of current evolution of the Internet are that the World Wide Web becomes segregated by what people are allowed to access and the cost of that access. It's something I've been saying for years here in the U.S. when discussing the merits of using mobile broadband as an answer to the lack of real wireline competition, but the New America report takes it further. It argues that issues such as packet blocking, different access technologies, broadband caps and cost all can widen the digital divide even if two areas have the FCC-sanctioned definition of broadband as offering 4 Mbps or more. Anti-NN PICTURE.
YouTube Tax request to EC. Ik neem aan dat de Commissie bekend is met het artikel uit de Financial Times waaruit blijkt dat grote telecombedrijven een zogenaamde "YouTube-heffing" overwegen.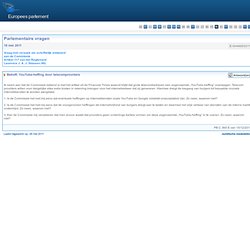 Telecom providers willen voor dergelijke sites extra kosten in rekening brengen voor het internetverkeer dat zij genereren. Hiermee dreigt de toegang van burgers tot bepaalde cruciale internetdiensten te worden aangetast. 1. Is de Commissie het met mij eens dat eventuele heffingen op internetdiensten zoals YouTube en Google volstrekt onacceptabel zijn. Zo neen, waarom niet? Canadian NN provision. Two of the leading issues before the CRTC - over-the-top video and usage based billing - have come together as Shaw has announced plans to launch a new online movie service designed to compete with Netflix.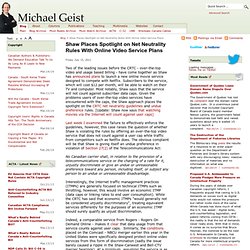 Subscribers to the service, which will cost $12 per month, will be able to watch on their TV and computer. Most notably, Shaw says that the service will not count against subscriber data caps. Given the problems users of over-the-top video services have encountered with the caps, the Shaw approach places the spotlight on the CRTC net neutrality guidelines and undue preference rules. [Update: Shaw now says that watching movies via the Internet will count against user caps] India uses PRC softw for mobile monitoring. The Indian government is teaming up with Chinese tech giant Huawei to search imported smartphones and communications devices for signs of malware and spyware.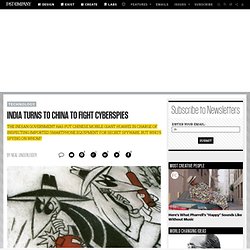 However, some Indians are nervous because of Huawei's close ties to the People's Liberation Army and fear that the firm could be complicit in cyberattacks. One journalist, Joji Thomas Philip of India's Economic Times, calls it "rather like letting the fox in to guard the henhouse." Huawei recently opened a research lab at Bangalore's Indian Institute of Science that will be expanded shortly. But opening a joint Indian-Chinese cybersecurity lab also presents problems for Huawei.
Hypocritic hole in China's Firewall. China, it seems, is getting ready to punch a cloud-shaped hole in its infamous Great Firewall.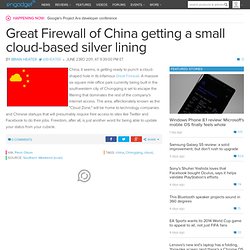 A massive six square mile office park currently being built in the southwestern city of Chongqing is set to escape the filtering that dominates the rest of the company's internet access. The area, affectionately known as the "Cloud Zone," will be home to technology companies and Chinese startups that will presumably require free access to sites like Twitter and Facebook to do their jobs. Dutch Net Neutrality Law. Big news out of the Netherlands this week, where a government minister announced plans to guarantee network neutrality by law.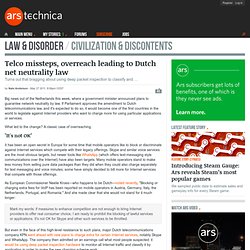 If Parliament approves the amendment to Dutch telecommunications law, and it's expected to do so, it would become one of the first countries in the world to legislate against Internet providers who want to charge more for using particular applications or services. What led to the change? A classic case of overreaching. It has been an open secret in Europe for some time that mobile operators like to block or discriminate against Internet services which compete with their legacy offerings. Alarm over EU 'Great Firewall' proposal. The closed meeting was held in February, but the minutes have only gained attention this week after being published online.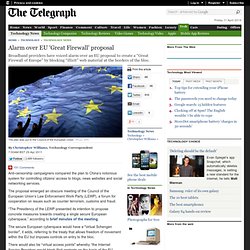 Malcolm Hutty, head of public affairs at LINX, a cooperative of British ISPs, said the plan appeared "ill thought-out" and "confused". "We take the view that network level filtering of the type proposed has been proven ineffective," he said. The Pirate Bay: "The Battle of Internets is About to Begin" Talks on implementing a Europe-wide firewall to censor and block 'illicit' websites has caused concern among many Internet users in recent weeks, and today one of the targeted sites has joined the discussion. Quoting one of Churchill's most famous speeches, The Pirate Bay team is rallying the public to defend the free Internet and end the threat posed by the entertainment industries' copyright lobby.
In February, a secret meeting of the European Union's Law Enforcement Work Party (LEWP) resulted in a worrying proposal. To deal with illicit sites on the Internet, the group suggested the adoption of a China-like firewall to block websites deemed 'inappropriate'. The controversial proposal immediately met resistance from various sides, including ISPs who would be tasked with maintaining the blocklist. FAI – La stratégie du pourrissement. La plupart des internautes français le constatent : Youtube rame complètement. Impossible depuis plusieurs semaines de lire correctement une vidéo en 360p et je ne vous parle même pas de la HD. J'ai constaté ce problème sur ma connexion perso (free), puis après avoir fait un petit sondage sur Twitter en demandant aux gens de me faire une capture écran de cette page, je sais quels sont les FAI qui rencontrent un souci avec Youtube :
Broadcast Yourself. Dropbox Attempts To Kill Open Source Project | Razor Fast. Image via Wikipedia Yesterday morning I woke up much earlier than I wanted. Instead of lying in bed, wishing I was asleep, I decided to get up and check out Hacker News. Better to waste my time reading industry news than lying around. One headline in particular caught my attention: "Dropship — successor to torrents?
---