Literacy
Appliances Clothing Eating and Drinking Events Everyday Speech Insults People Places Science & Nature Sex Sport The Body Travel & Transport Weights & Measures The most popular British insults. More than just insults, this list really includes rude words, exclamations and adjectives that don't fit anywhere else very well. arsehole: n asshole.
The Septic's Companion - List of British Words For Insults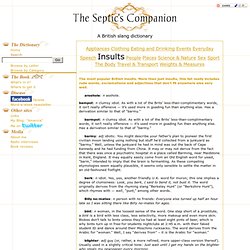 BlaBlaMeter - Bullshit detection tool
Knoword | Expand your vocabulary!
Reverse Dictionary