Apps
Open Source Software. Mac Freeware. One of the great things about having a Mac is being able to utilize the amazing amount of good freeware available.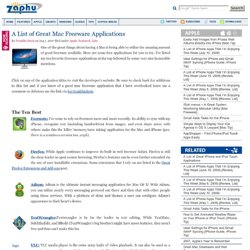 Here are some free applications for you to try. I've listed my ten favorite freeware applications at the top followed by some very nice honorable mentions. 15 Freeware Apps. Below are 15 essential free applications for OS X.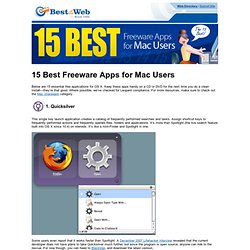 Keep these apps handy on a CD or DVD for the next time you do a clean install—they're that good. Where possible, we've checked for Leopard compliance. For more resources, make sure to check out the Mac shareware category. This single key launch application creates a catalog of frequently performed searches and tasks. Assign shortcut keys to frequently performed actions and frequently opened files, folders and applications. General Software. There are a ton of websites out there that use Java and I recently ran into an issue where an applet would not load while I was using Chrome on OS X Lion.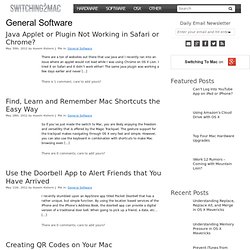 I tried it on Safari and it didn't work either! The same Java plugin was working a few days earlier and never […] So if you've just made the switch to Mac, you are likely enjoying the freedom and versatility that is offered by the Magic Trackpad. The gesture support for the trackpad makes navigating through OS X very fast and simple. 25 Free Mac Apps That Will Boost Your Productivity - Smashing Magazine. Advertisement There are many applications that can help you work faster and efficiently.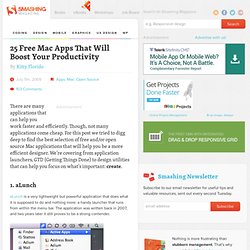 Though, not many applications come cheap. For this post we tried to digg deep to find the best selection of free and/or open source Mac applications that will help you be a more efficient designer. We're covering from application launchers, GTD (Getting Things Done) to design utilities that can help you focus on what's important: create. 1. aLunch. 40 Apps Mac.
---