Diet
Get flash to fully experience Pearltrees
HAVE you ever wondered why most French women appear to be effortlessly slim? The answer could lie in their diet. Not the Mediterranean diet, but a weight-loss program that has been taking the country by storm. Attack phase ...
Home Email The information on this site is for educational purposes only. It is not intended to diagnose, treat or cure any diseases or illnesses. The statements on this website have not been evaluated by the Food and Drug Administration.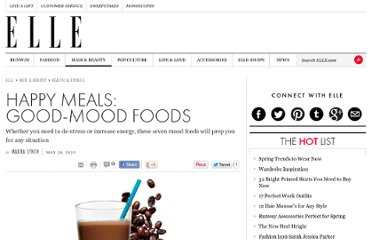 For a Tough Workout: Studies show that a jolt of java an hour or so before exercise increases endurance. Low-fat chocolate milk , meanwhile, makes for an excellent post-workout recovery drink: Its protein-to-carb ratio is ideal for repairing and strengthening muscles. Before a Presentation: Settle your nerves with oatmeal , which will keep your blood sugar stable. Still feeling frazzled? The vitamin C in oranges reduces the stress hormone cortisol. To Get in the Mood: Forget oysters.