Inkscape
Search | Peter's Website
presentation_CV
Inkscape gets OpenSCAD converter
Tired of jumping through hoops to go from Inkscape to OpenSCAD? Dan Newman created a new 3rd party extension that simply exports vector objects as .scad files. This is not the first attempt to implement the exporter: there were at least two more, by Marty McGuire and by John Cliff. However the currently available second version of Dan's Inkscape extension goes further than its predecessors: it translates arcs, clones, circles, ellipses, lines, paths, polygons, polylines, rects, and splines. It also handles groups and viewboxes.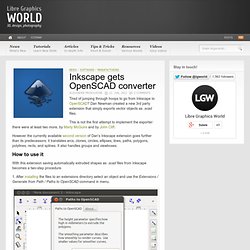 Inkscape Extension: Text from CSV Published › April 30, 2012 // 0 Comments Extension to enter text from a CSV file. Here is an extension to place text on a drawing from a csv file. This is useful if you want to plot map data etc.
Inkscape | The best Inkscape plugin collections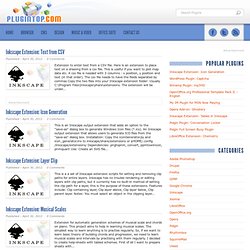 ext-sozi by asyazwan
asyazwan/ext-sozi @ GitHub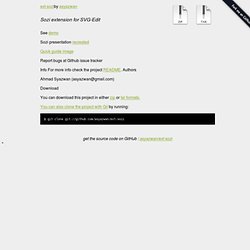 Inkscape - Google+
senshu/Sozi - GitHub
Inkscape Wiki
Inkscape exact equals, but tomorrow it will be stronger with the integration of 2D animation similar to Flash. by jeanjot Apr 8
Galleries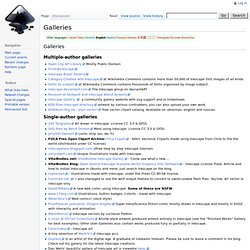 Other languages: Català Česky Deutsch English Español Français Italiano 日本語 한국어 Português Русский Slovenčina Multiple-author galleries Open Clip Art Library Mostly Public Domain Flickr@Inkscape Inkscape Brasil Galeria Category:Created with Inkscape at Wikimedia Commons contains more than 50,000 of Inkscape SVG images of all kinds SVGs by subject at Wikimedia Commons contains thousonds of SVGs organised by image subject. inkscape.deviantart.com The Inkscape group on deviantART Museum of Sodipodi and Inkscape About Screens Inkscape Gallery - a community gallery website with svg support and js slideshows KDE-Files Inkscape directory artwork by various contrubters, you can also upload your own work.