Reinventing The Library: From Print To Digital
Free eBook creator Tools - 100% Freeware to make your own fantastic eBook in less than 5 minutes - [3DPageFlip.com] 3DPageFlip eBook Maker is an 100% free ebook application that allows users to create and write ebooks.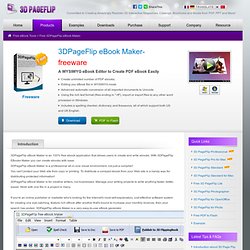 WIth 3DPageFlip EBooks Maker you can create ebooks with ease. 3DPageFlip eBook Maker is a professional all-in-one visual environment, not just a compiler! You can't protect your Web site from copy or printing. To distribute a compact ebook from your Web site is a handy way for distributing protected information! 3DPageFlip eBook Maker is for creative writers, not businesses. Zinepal: Online Ebook Creator. Zinepal is an online ebook creator that lets you make your own PDF magazines and ebooks using web content (atom/RSS feeds and websites) of your choice.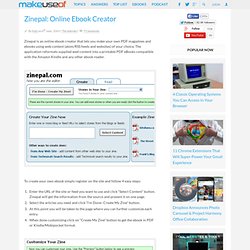 The application reformats supplied wed content into a printable PDF eBooks compatible with the Amazon Kindle and any other ebook reader. To create your own ebook simply register on the site and follow 4 easy steps: Enter the URL of the site or feed you want to use and click "Select Content" button. Online ebook creator. DotEPUB — download any webpage as an e-book. 20 Best Websites To Download Free EBooks. We understand that reading is the simplest way for human to derive and constructing meaning in order to gain a particular knowledge from a source.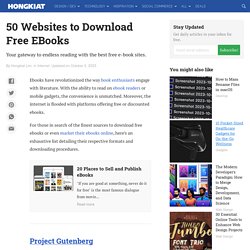 This tendency has been digitized when books evolve into digital media equivalent – E-Books. It would be nice if we're able to download free e-book and take it with us. That's why we've again crawled deep into the Internet to compile this list of 20 places to download free e-books for your use. Full list after jump. FreeBookSpotFreeBookSpot is an online source of free ebooks download with 4485 FREE E-BOOKS in 96 categories which up to 71,97 GB. Convert books and documents one-at-a-time to Word, Digital Talking Book (DTB) Imagining the Future of the School Library. Without a doubt, the school library remains one of them most symbolic, protected, and expensive 'spaces' on any campus.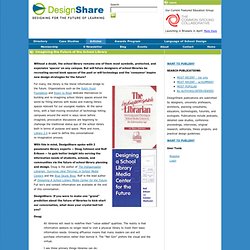 But will future designers of school libraries be recreating sacred book spaces of the past or will technology and the 'consumer' inspire new design strategies for the future? For many, the library is the literal information bridge to the future. Organizations such as the Robin Hood Foundation and Room to Read dedicate themselves to building and re-imagining school library spaces around the world by filling shelves with books and making library spaces relevant for our youngest readers. At the same time, with a fast-moving revolution of technology hitting campuses around the world in ways never before imagined, provocative discussions are beginning to challenge the traditional status quo of the school library both in terms of purpose and space. Are Libraries Dying or Thriving? One of the towns I used to live in is apparently raising two million dollars for renovations to its library.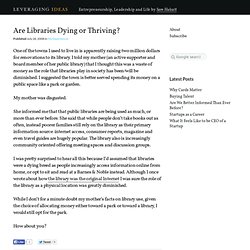 I told my mother (an active supporter and board member of her public library) that I thought this was a waste of money as the role that libraries play in society has been/will be diminished. I suggested the town is better served spending its money on a public space like a park or garden. My mother was disgusted. The Original Internet: Still a Great Place to Visit. As happens many a Sunday, today I spent the afternoon with some friends getting brunch and then browsing an independent bookstore on Court Street in Brooklyn.
I spend an unhealthy amount of time browsing blogs and websites. Fewer and fewer of these sites (and their content) are inspiring me. Yes, there is a lot of interesting stuff going on with Facebook, OpenSocial and the like, but everyone writes about the same stuff. It's really a Catch 22: to be well-read you need to write about what everyone else writes about (think Techmeme). The future of libraries, with or without books. (CNN) -- The stereotypical library is dying -- and it's taking its shushing ladies, dank smell and endless shelves of books with it.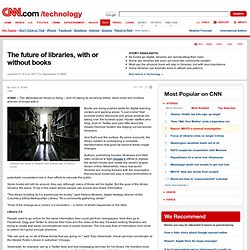 Libraries are trying to imagine their futures with or without books. Books are being pushed aside for digital learning centers and gaming areas. "Loud rooms" that promote public discourse and group projects are taking over the bookish quiet. Hipster staffers who blog, chat on Twitter and care little about the Dewey Decimal System are edging out old-school librarians.
News, Magazines, Newspapers, Journals, Reference Articles and Cl. LibraryThing | Catalog your books online. Assessing Children's E-Book and App Market at TOC Bologna. The Digital Dilemma for Picture Book Publishers. Gossamers. This article provides a brief guide to ebook conversion, covering what it involves and how to select a conversion service, with an emphasis on maintaining quality.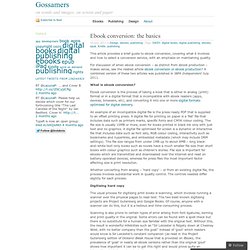 For discussion of when ebook conversion – as distinct from ebook production – makes sense, see the related article ebook conversion or ebook production? A combined version of these two articles was published in IBPA Independent July 2011. What is ebook conversion? Ebook conversion is the process of taking a book that is either in analog (print) format or in a digital format that is incompatible with ebook readers (apps, devices, browsers, etc), and converting it into one or more digital formats optimised for digital delivery.
---