Reinventing The Library: From Print To Digital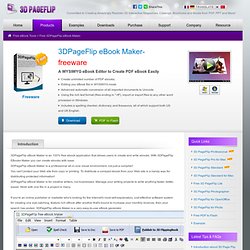 3DPageFlip eBook Maker is an 100% free ebook application that allows users to create and write ebooks. WIth 3DPageFlip EBooks Maker you can create ebooks with ease.
Free eBook creator Tools - 100% Freeware to make your own fantastic eBook in less than 5 minutes - [3DPageFlip.com]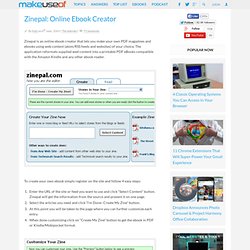 Zinepal: Online Ebook Creator
Zinepal is an online ebook creator that lets you make your own PDF magazines and ebooks using web content (atom/RSS feeds and websites) of your choice.
Online ebook creator
dotEPUB — download any webpage as an e-book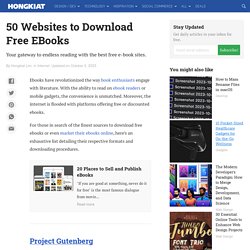 We understand that reading is the simplest way for human to derive and constructing meaning in order to gain a particular knowledge from a source. This tendency has been digitized when books evolve into digital media equivalent – E-Books. It would be nice if we're able to download free e-book and take it with us. That's why we've again crawled deep into the Internet to compile this list of 20 places to download free e-books for your use. Full list after jump. FreeBookSpotFreeBookSpot is an online source of free ebooks download with 4485 FREE E-BOOKS in 96 categories which up to 71,97 GB.
20 Best Websites To Download Free EBooks
Convert books and documents one-at-a-time to Word, Digital Talking Book (DTB)
Without a doubt, the school library remains one of them most symbolic, protected, and expensive 'spaces' on any campus.
DesignShare: Imagining the Future of the School Library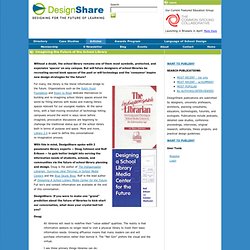 One of the towns I used to live in is apparently raising two million dollars for renovations to its library.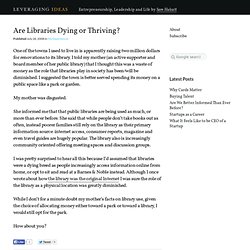 Are Libraries Dying or Thriving?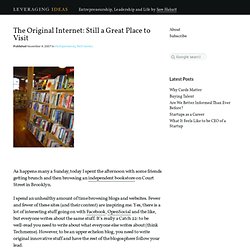 The Original Internet: Still a Great Place to Visit
As happens many a Sunday, today I spent the afternoon with some friends getting brunch and then browsing an independent bookstore on Court Street in Brooklyn.
The future of libraries, with or without books
News, Magazines, Newspapers, Journals, Reference Articles and Cl
LibraryThing | Catalog your books online
Assessing Children's E-Book and App Market at TOC Bologna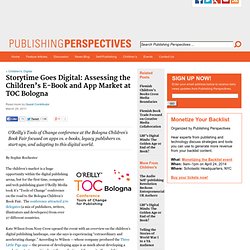 O'Reilly's Tools of Change conference at the Bologna Children's Book Fair focused on apps vs. e-books, legacy publishers vs. start-ups, and adapting to this digital world. By Sophie Rochester The children's market is a huge opportunity within the digital publishing arena, but for the first time, computer and tech publishing giant O'Reilly Media took it's "Tools of Change" conference on the road to the Bologna Children's Book Fair.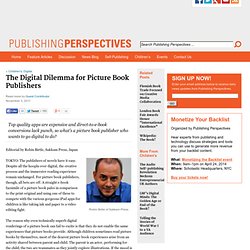 Top quality apps are expensive and direct-to-e-book conversions lack punch, so what's a picture book publisher who wants to go digital to do? Editorial by Robin Birtle, Sakkam Press, Japan
The Digital Dilemma for Picture Book Publishers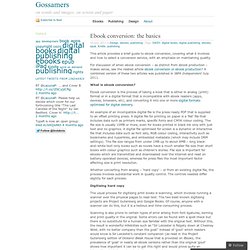 Gossamers
This article provides a brief guide to ebook conversion, covering what it involves and how to select a conversion service, with an emphasis on maintaining quality.