LMS LCMS
Christopher Pappas Christopher Pappas is the Founder and Owner of the eLearning… Joel Gardner, PhD Dr.
The Ultimate list of Open Source Learning Management Systems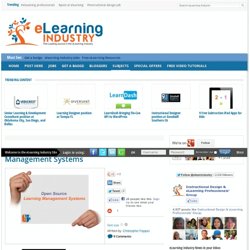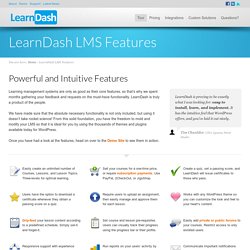 Learning management systems are only as good as their core features, so that's why we spent months gathering your feedback and requests on the must-have functionality.
LMS Features
Description technique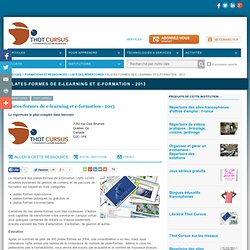 Le répertoire des plates-formes de e-formation, LMS, LCMS et autres systèmes de gestion de contenu et de parcours de formation est séparé en trois catégories: plates-formes open-source, plates-formes publiques ou gratuites et plates-formes commerciales. Open Source ne signifie pas gratuit.
Liste (non exhaustive) de 61 Plates-formes LCMS Open Sources
Looking Glass est une interface utilisateur graphique 3D, intuitive et conviviale, qui fonctionne actuellement sur Sun Solaris, Linux et Microsoft Windows. Elle est développée par Sun - en étroite collaboration avec la communauté Open source - comme un nouveau paradigme succédant à celui de l'ensemble des interfaces 2D actuelles, tous systèmes confondus. En bref, c'est l'abandon des multiples fenêtres en deux dimensions superposées les unes aux autres pour faire place aux multiples fenêtres 3D dynamiques et translucides toutes visibles simultanément dans un environnement tridimensionnel interactif.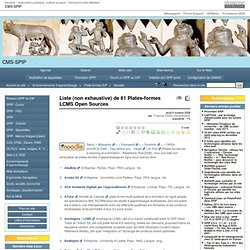 Sakai CLE (core) Contributors
I know, I know. You don't have time for all of this. You need an LMS and you have a teeny tiny amount of time to spend figuring it all out.
aLearning Blog