Exerciseur RapidLearning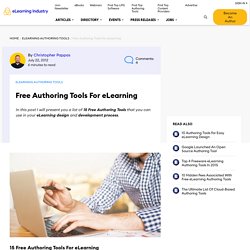 Christopher Pappas Christopher Pappas is founder of The eLearning Industry's Network. Currently, the eLearning Industry has a network of more than 75,000 professionals involved in the eLearning Industry and runs the following sites: ► The eLearning Industry 150+ eLearning Bloggers"The Leading source on All Things eLearning. Find 1st and publish all the latest trends, articles and news."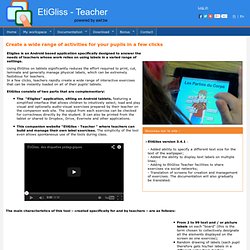 Creating your own exercises Once you have registered on this site you will be able to easily create your own exercises by simply defining the labels you want to see on the background board. Straightforward instructions are available on the documentation pages, and video tutorials provide useful hands on tips that will get you started without delay. The exercises you have created will be kept in your on-line workspace, where you can manage them and make them available to you pupils. Still have questions?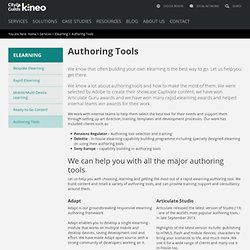 We know that often building your own elearning is the best way to go. Let us help you get there. We know a lot about authoring tools and how to make the most of them. We were selected by Adobe to create their showcase Captivate content; we have won Articulate Guru awards and we have won many rapid elearning awards and helped internal teams win awards for their work. We work with internal teams to help them select the best tool for their needs and support them through setting up art direction, training, templates and development processes. Our work has included clients such as: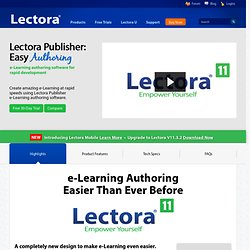 Ease of use Don't worry, you don't have to be an expert to use Lectora. With ourintuitive, easy-to-use tools, you'll be up and running in no time. NEW Look What's New in Lectora V11.3 Enhanced Design Tools Fade in images and text, apply a modern fly animation and apply other transition effects to Web-based objects, such as elastic and bounce animations—all HTML5 compatible.
eLearning Software, Authoring Tools, Online Courses | Lectora Publishe
Directory of E-Learning Tools: Course Authoring Tools