Exerciseur RapidLearning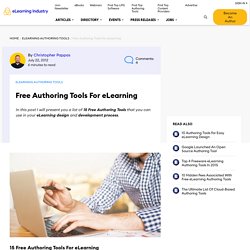 Christopher Pappas Christopher Pappas is the Founder and Owner of the eLearning… L. Michelle Baker, PhD Michelle Baker holds a PhD in English Language and Literature… Ruben Daniel Ruben Ugarte is the co-founder at Edukaans, a learning platform… Thaleia Deniozou Thaleia is a digital designer and a PhD candidate at… Don McIntosh Ph.D. in Instructional Technology from Syracuse University.Director of Teaching Support… Kasper Spiro I believe that we can do better in eLearning when… Aubryn Smith I am an ONLINE Lecturer/ E-Tutor/ONLINE Facilitator/Course Coordinator with the… Joel Gardner, PhD Dr.
15 Authoring Tools For mEnabling Your eLearning For iPads
Rapid E-learning Authoring Tools | authoring tools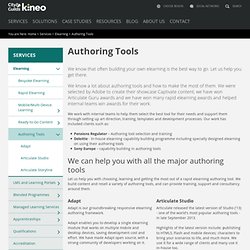 Creating your own e-learning? You will need a great tool to support you and the good news is that there many to choose from.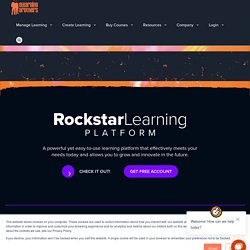 Learn what you need to get started with Lectora Publisher Languages Supported Lectora Inspire is available in the following languages: English French German Spanish Swedish Chinese Brazilian Portuguese *Version 11 of Lectora Inspire is currently only available in English. Version 11 will be available in all 7 languages very soon. System Requirements Make sure you meet the following system requirements before you install Lectora: Intel® or AMD® class processor 500MB RAM 1.1GB free hard disk space for the application Lectora runs on the following operating systems: Microsoft Windows XP Microsoft Windows Vista® Microsoft Windows 7 Microsoft Windows 8 Courses created for the web require Internet Explorer 7.0 or newer or any version of Mozilla Firefox™, Google Chrome™ or Apple Safari®.
eLearning Software, Authoring Tools, Online Courses | Lectora Publishe
Directory of E-Learning Tools: Course Authoring Tools