Work
Job search
work tools
Universal Sewing Supply - Sewing Machine Parts and Supplies. We believe our inventory of industrial sewing related equipment, supplies and parts to be the largest in the industry.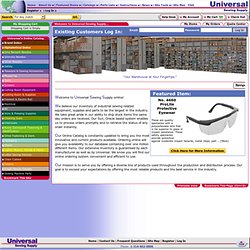 We take great pride in our ability to ship stock items the same day orders are received. Our Sun, Oracle based system enables us to process orders promptly and to retrieve the status of any order instantly. Our Online Catalog is constantly updated to bring you the most innovative and current products available.
Job search. Project management. Bitcoin. Prezi - The Zooming Presentation Editor. Ask questions - Aardvark. Impulso- lean manufacturing.
---