Youtube favorites
Scrumdiddlyumptious. Bangarang. Skynet Symphonic. Toyz Noize. Jungle all the way - Swede Mason. Machinima's Channel. Episode 2 is ALREADY ONLINE: Mike's a regular guy who just watched the girl of his dreams get turned into a bloody smear on the wall.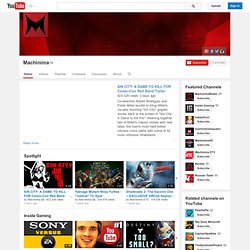 Now he's figuring out he's a non-playable character in an open world video game and his roommates don't believe him. NPC title theme is "Checkmate" by Andrew Blaney, licensed from Killer Tracks Created by Woody Tondorf, Jeff Sloniker, and Andrew Hanson Directed and edited by www.youtube.com/Tyrannicon Written by Andrew Hanson and Jeff Sloniker Starring Oliver Vaquer as Mike Brea Grant as Sally Jeff Sloniker as Rico Ben Pace as Cousin Larry/Helicopter reporter Adam Kovic as Alex Bruce Greene as Jake.
MIKE RELM - IRON MAN 2 (OFFICIAL TV SPOT) MIKE RELM x IRON MAN 2. Carl Sagan - 'A Glorious Dawn' ft Stephen Hawking (Symphony of S. Alan Watts - The Real You. Symphony of Science - 'Our Place in the Cosmos' (ft. Sagan, Dawk.