Genealogy Websites
Welty Genealogy.net. Harvey County Genealogical Database. The Harvey County Biographical & Genealogical Database is the repository for all of the biographical information collected for each resident of Harvey County, Kansas.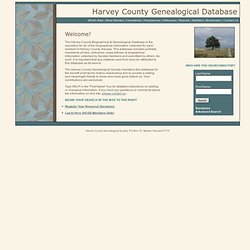 This database includes portraits, headstone photos, obituaries, news articles, & biographical information collected by Society members and submitted by others. As such, it is important that any material used from here be attributed to this database as its source. The Harvey County Genealogical Society maintains this database for the benefit of all family history researchers and to provide a lasting and meaningful tribute to those who have gone before us. City of Newton, Kansas: Burial Record Detail. Antietam Families: Peter Welde.
Genealogy, Family Trees and Family History Records online - Ancestry.com.
---