Language Arts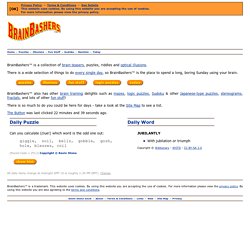 BrainBashers™ is a collection of brain teasers, puzzles, riddles, games and optical illusions. BrainBashers has thousands of puzzles and brain teasers, and with something for every day, including games and optical illusions, you can be sure there is always something to do. With over one hundred awards, BrainBashers is the place to spend a boring Saturday afternoon training your brain. Fridays and weekends are special on BrainBashers. You can access the Weekend Specials on the 'Today @ BrainBashers' page.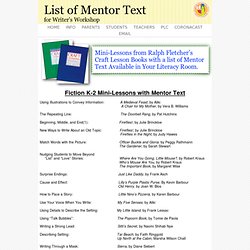 Fiction K-2 Mini-Lessons with Mentor Text Using Illustrations to Convey Information: A Medieval Feast, by Aliki A Chair for My Mother, by Vera B.
List of Mentor Text for Writer's Workshop
Student Publishing - Excite Students to Write!
angela-wisemanwiki.wikispaces.com/file/view/Lucy+3_5book5+Literary+Essays+One+pagers.pdf
A Little Poem Regarding Computer Spell Checkers... Eye halve a spelling chequer It came with my pea sea It plainly marques four my revue Miss steaks eye kin knot sea. Eye strike a key and type a word And weight four it two say Weather eye am wrong oar write It shows me strait a weigh. As soon as a mist ache is maid It nose bee fore two long And eye can put the error rite Its rare lea ever wrong.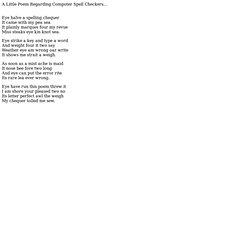 Spell Checker Poem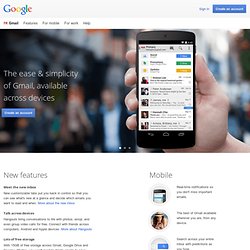 ideas for writing/reading workshop - janetchodos - Hartlandschools.us Mail
New features Meet the new inbox New customizable tabs put you back in control so that you can see what's new at a glance and decide which emails you want to read and when. More about the new inbox Talk across devices Hangouts bring conversations to life with photos, emoji, and even group video calls for free.
Always Write: My Teacher/Trainer Homepage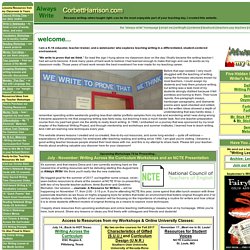 I am an educator, a teacher-trainer, and a webmaster who specializes in teaching writing in differentiated, project-based environments "We write to prove that we think." So read the sign I hung above my classroom door on the day I finally became the writing teacher I had set out to become. It took many years of hard work to believe I had learned enough to make that sign and use its words as my classroom motto. Those years of hard work remain the best investment I've ever made for my teaching career.
classroom.booksource.com/classroom/librarymanager.aspx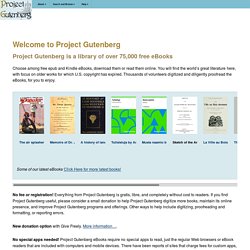 New Kindle Fire Review Before you buy: Read our Webmaster's review of the new Kindle Fire. Some of Our Latest Books
teacher.scholastic.com/products/sri_reading_assessment/pdfs/SRI_LexileProfesionalPaper.pdf
mommymn.tripod.com/sitebuildercontent/sitebuilderfiles/lexiles_drp_etc.pdf
www.ttms.org/PDFs/05 Writers Workshop v001 (Full).pdf
Reading Levels of Children's Books: How Can You Tell?
"Where can I get information that would tell me the generally accepted 'grade level' for commonly-read elementary school books?" This question is often asked, and the answers can be confusing. Yes, answers. There are lots of different answers.
Classroom Books: Browse by Level | Scholastic
Video Interviews with Top Children's Authors and Illustrators
Benefits and Tax Advantages : Michigan Education Savings Program (MESP)
Invest in your child's future with the Michigan Education Savings Program Many families hope to see their child or loved one graduate from college someday, but it takes more than hope to get there. The Michigan Education Savings Program (MESP) is a 529 college savings plan that can help your family save for future higher education expenses. Investing in education is a smart move and the tax advantages built into MESP can help accomplish your college savings goals that much faster. Tax Advantages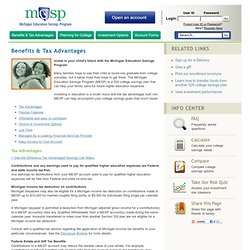 Letting Students Define and Design My 6th Grade Classroom Library Katie Doherty I started out last fall with all my classroom library books organized alphabetically by author.
Letting Students Define and Design My 6th Grade Classroom Library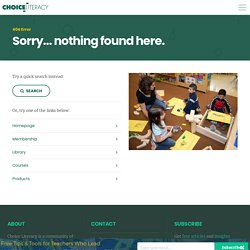 ATN Book Lists
Multiple Branch Schedule of Events