Online Communcation Resources
Gmail Tips: 9 Easy Tricks And Tools To Keep Your Inbox Under Control. Once you get a taste of labels, you'll never want to go back to using folders.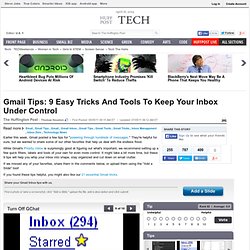 Gmail's labels function like tags, so something that's both important and related to family can be labeled as such. This saves you from having to throw it into a complicated tree of folders and remember later where you put it. To start, set some up for finances, family, friends, events, bills and social networking updates. WebList - The place to find the best web lists on the web. Thunderbird. Simplify your life.
---